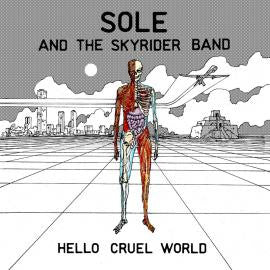 Sole & Skyrider Band - Hello Cruel World CD
On Hello Cruel World, Sole aka Tim Holland returns with the Skyrider Band for his first full length since the split with Anticon, and his third album with the Skyrider Band. While much was made of Sole leaving the Anticon empire he helped create, there's a refreshing, new found confidence and focus not seen since his now-classic albums Selling Live Water and Bottle of Humans.
On Hello Cruel World sees Sole has assembled an army of the most exciting voices in indie culture to be apart of the new record, recruiting everyone from LILBTHEBASEDGOD, Xiu Xiu, Pictureplane, Sage Francis, Ceschi, and more, to create a pretty stunning tapestry that is a new high water mark in Sole's creative output.
Perhaps even more interesting, listeners will notice that Sole has adopted the most deliberate flow of his career--abandoning the freewheeling, hyper-timed assaults of his earlier work in favor of a biting clarity and all around accessibility. The record draws on the wealth of his newly found freedom, tapping into the positivity and ethics of a DIY tradition he has always known and embraced throughout his career - transforming his past cynicism into a call to arms and personal empowerment. The Skyrider Band itself has been similarly transformed; trading in their dense soundscapes and organic touchstones for an impeccable attention to detail and more studio-centric productions.

On Sole and the Skyrider Band's last record, Plastique, Sole claimed, "I've been digging my grave since age 15." Since then, he's been hard at work converting his grave into trenches that span from California to Barcelona, and the bottom of the ocean to the moon. Hello Cruel World occupies these trenches, steadfastly refusing to be flushed into a niche.

Tracklisting:

#1 Napoleon (feat. Xiu Xiu) 
#2 D.I.Y. 
#3 Hello Cruel World 
#4 Fire 
#5 Bad Captain Swag (feat. Lil B & Pictureplane) 
#6 We Will Not Be Moved (feat. Ceschi & Noah23) 
#7 Possimism #8 Home Ain't Shit (written by Pedestrian) 
#9 Formal Designation 134340 
#10 Immortality 
#11 Progress Trap (feat. Sage Francis) 
#12 Vaya Con El Diablo (feat. Isaiah Toothtaker, Mestizo & Ceschi) 
#13 Villon