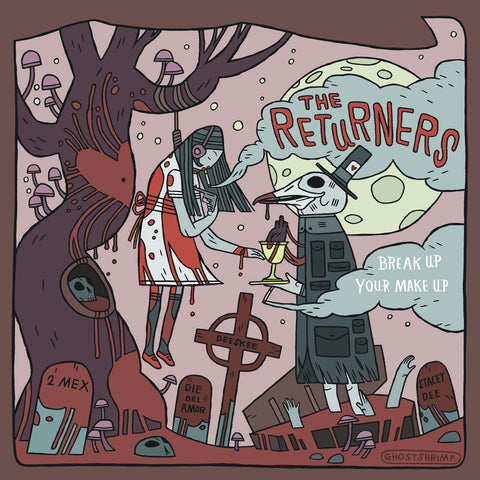 The Returners - Break Up Your Make Up MP3 Download
Los Angeles emcee 2MEX is committing career suicide and loving every minute of it. His new group (yes...another group), THE RETURNERS, has delivered an album entitled Break Up Your Make Up as a loose tribute to the campy horror film, Cemetary Man. This collaborative juggernaut of a project features such indie-rap heavyweights as P.O.S., Busdriver, Grayskul, Awol One and many more.

In the Cemetary Man movie, "the returners" come back to life as
zombies to find their true love. On this album, The Returners come back to do more of the same while invoking the spirit of mid-90's horrorcore. Break Up Your Make Up is sort of like...Gravediggaz meets Hot Child in the City. Street tales of love lost and love lust over Deeskee's "Temple of Boom" inspired production.

This trunk-thumping twist of a tribute is all a backdrop to the
contrasting styles of veteran emcees 2Mex and Die Del Amor. They are joined on the mic by punk rocker Staceydee, making her Pharcyde-esque hiphop debut on songs like First Kill and Powerless. Bay Area producer Deeskee seamlessly ties the entire concept together, bringing back the unashamed art of sampling while weaving a fun production style into the dark and eerie vibe of the lyrics. If you sync this album up with the visuals of Kubrick's "Eyes Wide Shut" it will save the group on video costs, so feel free to give that a try.

The full tracklisting:

1. Welcome to Buffalora
2. From the Desk of LA2thebay
3. De la Muerte del Amor
4. First Kill
5. She Just Thinks
6. Return of the Walking Dead (feat Busdriver)
7. Inter(course)lude
8. Powerless
9. Beautiful Mourner
10. Paradise
11. I Promise (feat P.O.S.)
12. Go to Hell (feat Awol One, Akuma and Life Rexall of the Shapeshifters)
13. Behind the Door (feat Onry Ozzborn, Candidt, iame, Gold, Life Rexall and J.F.K.)

ALL TRACKS PRODUCED BY DEESKEE!