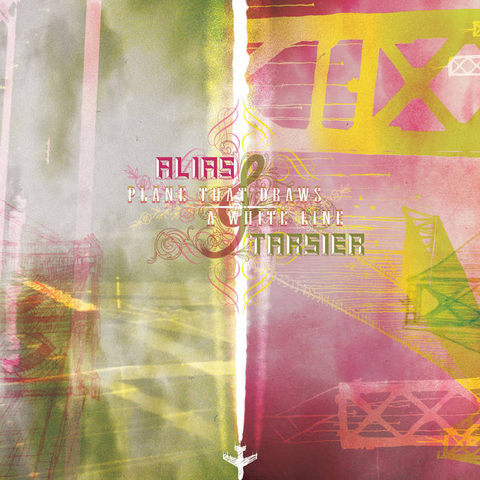 Alias & Tarsier - Plane That Draws A White Line CD
ALL PROCEEDS FROM THE SALE OF THIS PRODUCT GO TO THE FAMILY OF BRENDON "ALIAS" WHITNEY.

Brendon "Alias" Whitney and Rona "Tarsier" Rapadas have always been something of an odd couple -- he from southern Maine, she from Culver City, CA -- they met after switching coasts (he'd moved to California and she'd moved to Brooklyn) and gradually became a team after spending some time swapping music by mail. Their collaborations eventually culminated in the album Brookland/Oaklyn, and Plane That Draws a White Line is an odds-and-sods EP compilation is made up of tracks from that album along with remixes, outtakes, and alternate versions.
TRACKLIST
01 Plane That Draws A White Line
02 Nocturnal Eye
03 9_24 Cigarette [Version 1]
04 Sleepy.
05 Plane That Draws A White Line (Boom-Bip Remix)
06 Rising Sun (Christ. Red Shift Remix)
07 5 Year Eve (Neotropic Remix)
08 Ligaya (Odd Nosdam Remix)
09 Dr. C (Healamonster Remix)

Continuing their icy journey through the ethereal, Alias & Tarsier grace the cosmos with the Plane That Draws a White LineEP, a collection of new songs and remixes opened by a reprise of the titular track (taken from the Brookland/Oaklyn full-length). Our man Alias continues to weave his winding glacial tapestries, nurturing a loud quiet beat aesthetic‹the old build-and-drop‹that teases and tugs at Tarsier's blue flame of a voice. "Plane that Draws a White Line" is a major-chord affair strummed on acoustic guitar over washes of rain. Bicoastal thunderstorms play through while stuttering beats and strings of melody dance with the level croon. "Nocturnal Eye" begins with minimalist textures: squirreling electronic notes, a lone hand-drum, synth lines firing off intermittently, light layers of atmospheric dust. Tarsier enters the mix, chopped in places and bounced side to side in others, scattered or buttressed by Alias' flourishes. A heavy bass drum kicks and carries the song to it's taut end. "9:24 Cigarette (version 1)" and "Sleepy" juxtapose resigned-but-inspired Björkian tranquility against a bouncing ball of somewhat smoothed hiphop glitch (on the latter, Alias cuts up a line from a Sole song). Boom Bip plays fast and loose with the rhythms and effects of "Plane,"eventually blowing the track up with a heady combination of synth strings and heavy bump, while christ. experiments with subtlety, keeping a low profile on "Rising Sun." "5 Year Eve" is rewoven by Neotropic as a dense and dark feast of melodic resolve with Tarsier's utterances seemingly emanating from an underground pool. The finale comes with Odd Nosdam's trademark dank and dubby take on Brookland/Oaklyn's closer "Ligaya." The drum-and-fuzz recreation is perfectly paced, building to a collagist's dream before echoing away. The CD version includes a bonus previously only available on the "Dr. C" single: the remix of said song by Tarsier's long-time collaborator Healamonster.