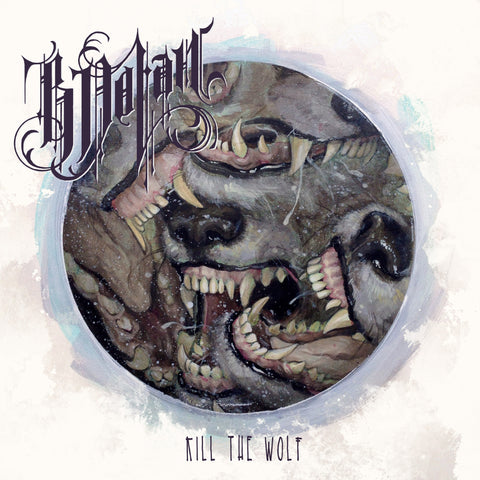 B. Dolan - Kill The Wolf CD+MP3
Orders for this product page will include:
1x B. Dolan "Kill The Wolf" CD
1x SFR Sticker
ALL "Kill The Wolf" orders include an INSTANT MP3 Download of the full album delivered to your inbox when you complete your order!
---------------------------
B. Dolan's latest record is the self-produced "KILL THE WOLF", a sweeping, powerful opus five years in the making. The album reinforces Dolan's status as a complex lyricist and introduces him as a ambitious, versatile producer, dedicated as ever to concept and vision over fleeting hip-hop trends.

"JAILBREAK" is the 2nd video from "Kill The Wolf"!

This sophomore studio effort on STRANGE FAMOUS RECORDS / SPEECH DEVELOPMENT features a supporting cast of talent from a wide range of musical backgrounds, including AESOP ROCK, BUCK 65, ALIAS, CECIL OTTER (Doomtree), KATHLEEN STUBELEK (Circle Takes the Square), DS3K, BUDDY PEACE, AUPHEUS, and the late DAVID LAMB (Brown Bird).
The video for "SAFETY THEATER" is directed by Scroobius Pip & features Kathleen Stubelek!


Check out "ALRIGHT", the first official video from the album!


It would be easy for an album to go astray amidst such varying styles, but Dolan stays in firm command as the expert conductor, driving the album's layered and visionary sound. "KILL THE WOLF" sets out with a goal of demolishing the boundaries of what was previously thought possible in a B. Dolan record; bringing the best techniques from his catalogue into a new era of production value by fusing live guitars, analog synths, violins and upright bass with formidable vocals and intricate lyrics.

Five years after shaking the foundations of underground rap with his "Fallen House, Sunken CIty" LP, B. Dolan emerges from the earth, battle-tested, clear-eyed, and sharper than ever. 

The time has come to Kill the Wolf.

TRACKLISTING

01 Lazarus 4:47
02 Graffiti Busters 4:20
03 Stay Inspired 3:46
04 Safety Theater 4:42
05 Jailbreak feat. Aesop Rock & Buck 65 & Dave Lamb of Brown Bird 5:10
06 Run the Machine 4:58
07 Rats Get Fat 4:20
08 Who Killed Russell Jones? 4:04
09 Alright 4:52
10 Memory of Bombs 5:12
11 These Rooms 4:38 
Additional "Kill The Wolf" packages & merch (including CD, Vinyl LP, Cassette, MP3, T-Shirt options) can be found here. 
----------------------------------------------------------
PLEASE NOTE: Ship dates are subject to change due to manufacturing delays. Product pages will be updated with current information regarding ship schedules, please consult before emailing customerservice@strangefamous.com with any questions. Thank you for your patience and understanding.
----------------------------------------------------------
Questions about our shipping practices & policies? Wondering how long it will take for your order to arrive?
Please read the Frequently Asked Questions section of our website here before you order! Thanks!

----------------------------------------------------------