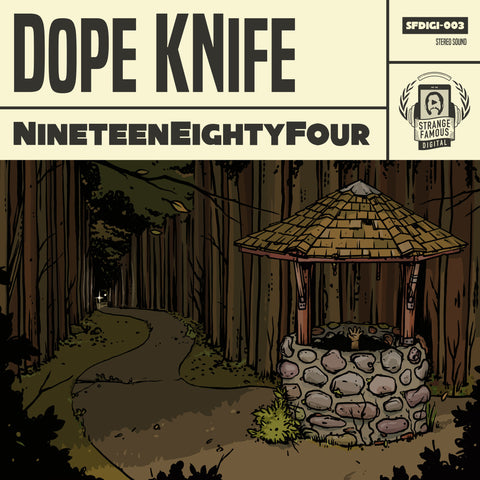 Dope KNife - NineteenEightyFour MP3 Download
Orders for this product page will receive:
1x 320kbps MP3 Download of full "NineteenEightyFour"
     - delivered to your inbox upon completion of your pre-order checkout
———————————
Savannah, GA microphone monster DOPE KNIFE has unleashed his self-produced full-length SFdigi debut "NineteenEightyFour" (featuring Sage Francis, Ceschi, and more)!
———————————

Perhaps it was the euphoria of the first time he heard a rhyme collide with a beat. It may have been the gruesome civil war that touched his young life, and that war's impact his family. Likely, it was the fusion of the two experiences that inspired a young Kedrick Mack to develop and refine his sound into what is now the intense, distinctive art of emcee/producer Dope KNife.

The latest video from #NEF is "Memory Hole"!

"NineteenEightyFour", Dope KNife's Strange Famous debut, effectively demonstrates his style in ferocious, focused bursts, fused into a gritty boom-bap soundscape littered with dense wordplay. The album title refers to the year of Kedrick's birth, the same year in which he fell into a water well in Sierra Leone. "I have a scar on the back of my skull from it,' Mack explains. "How it happened became one of those stories that my mother would reveal to new acquaintances as they became friends. As a result, as an adult, for me, the story is like the last barrier of information I give a person as an affirmation of our relationship. If a person has known me long enough for me to tell them how I fell in a well as a baby, it's a sign I'm opening up to them. 'NineteenEightyFour' is that last barrier for me as a musician."

"NAME UP" was the first video released from "NineteenEightyFour"!


The son of a US diplomat, Mack's childhood was spent hopping around the globe in the course of his father's work. Most of that travel was within the continent of Africa, including a residency in Liberia, his mother's home country. Liberia's civil war broke out, and while he and his immediate family were able to evacuate, his mother's extended family were not so fortunate, leaving them to live amongst the chaos of a decade-long conflict.  He'd learn of his family's tragedies and hardships through the tears on his mother's face, an almost daily ritual that left him feeling isolated during his teen years. His discovery of music, and hip-hop in particular, gave him a way to reach out: he began to immerse himself in the culture, finding inspiration in artists as disparate as Rakim, Nine Inch Nails, and Ice-T. He began fronting a rap/rock band and spending time on the freestyle battle circuit from his new stomping grounds in Savannah, GA.
Check out "Nothing To Lose", the first song from "NineteenEightyFour"!


Mack forged strong friendships through his foray into music, friendships which lead to the formation of a DIY record label that allowed him to release 2 full-length group LPs under the crew name Dope Sandwich. Remaining true to his collaborative roots, Mack invites a gang of indie emcees to contribute to "NineteenEightyFour"; rappers with whom he built a mutual respect over years of extensive touring appear on the posse cuts "#SQUADGOHARD" and "Tombstone". KNife uses the solo album format to display his sharp wit and a knack for social commentary, and to explore heavier subject matter and experiment with his own music production. Moments of note include the first single, "Name Up", and the introductory mission statement "Nothing To Lose". Strange Famous label boss Sage Francis makes an appearance on "Cult Personality", and indie rap troubadour Ceschi pops up on "Fear and Loathing".

"NineteenEightyFour" is available now at all digital retailers via SFdigi, and on exclusive limited edition CD + 7" records at www.StrangeFamous.com

TRACKLISTING

01 Nothing To Lose
02 Inner Party
03 Fear And Loathing feat. Ceschi
04 Thought Crimes
05 They Live
06 Tombstone feat. 5AM, Obeah, Day Tripper
07 Unperson
08 Cult Personality feat. Sage Francis
09 Name Up
10 Memory Hole
11 #SQUADGOHARD feat. LC, Esh, B. Rude, Zak G, JabrJaw, AllOne
12 Room 101