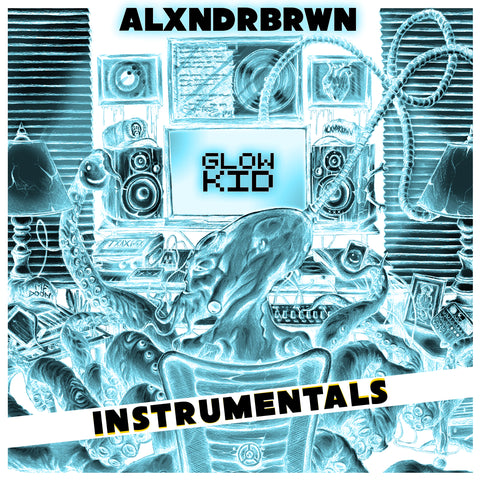 ALXNDRBRWN - Glow Kid (Instrumentals) MP3 Download
To celebrate the 1-year anniversary of the LP, Strange Famous Records has removed all those pesky emcees from "Glow Kid" to reveal the spectacular soundscapes of ALXNDRBRWN in their full, unfettered form!

Here's what we had to say about the original version of the album:

"GLOW KID" is the 2021 LP from producer ALXNDRBRWN!
Known for his 2020 lo-fi beats SFR debut "The Alex Brown Project" and his work on Sage Francis' "Copper Gone" LP, the soundscape artist has brought together a gang of his Strange Famous crewmates to help create his latest opus:
"Glow Kid" features appearances by SAGE FRANCIS, BUCK 65, CAS ONE, BLACKLIQ, MOPES (FKA Prolyphic), SWELL (ex-Metermaids), SEEZ MICS, JESSE THE TREE, BUDDY PEACE,
and more! 
----------
Orders for this product page will receive:

1x "Glow Kid" Instrumentals full album 320kbps MP3 Download 
- link to download a .zip file of the mp3 will be delivered to your inbox after completion of checkout
- MP3s must be downloaded on a computer, not a mobile device
----------

TRACKLIST
01 Intro (Instrumental)
02 Problems Got Problems 
(Instrumental)
03 When The Pot Boils
 (Instrumental)
04 Get Those Birds
 (Instrumental)
05 Dream School
 (Instrumental)
06 Rest
 (Instrumental)
07 Heavy Footed
 (Instrumental)
08 Caught In A Jam
 (Instrumental)
09 What's The Difference
 (Instrumental)
10 A Boy Nostalgic for the Future
 (Instrumental)
11 Irony
 (Instrumental)
All tracks produced by ALXNDRBRWN
Cuts by Buddy Peace
Artwork by Tai Taeoalii