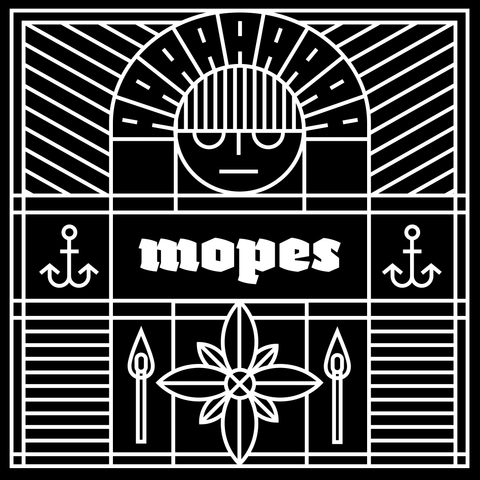 Mopes EP 7-Inch Record + MP3
Introducing… MOPES! 
Back again for the first time, the artist formerly known as PROLYPHIC is marching forward with a new name, a new perspective, and a new EP that formally announces his presence with authority. It's not just a name change - it's a game change. 
----------
Orders for this product page will receive:
1x "Facts Machine" b/w "Party McFly" 7-Inch Lathe Cut Record
***Limited Edition hand-numbered 1st pressing - only 30 copies available!
1x Mopes EP 320kbps MP3 Download
- includes the full 4-song EP + 4 bonus instrumentals, only available at SFRstore! 
- link to download a .zip file of the mp3s will be delivered to your inbox after completion of checkout
- MP3s must be downloaded on a computer, not a mobile device
1x Bonus Vinyl record from The Great Sage Francis Record Collection Purge of 2021

----------
TRACKLIST
01 Facts Machine
02 Party McFly (feat. Sage Francis, Jesse The Tree, BlackLiq)
03 Point A to Point B (feat. Jesse The Tree)
04 You Ging Rich (cuts by Buddy Peace) 
05 Facts Machine (Instrumental)
06 Party McFly (Instrumental)
07 Point A to Point B (Instrumental)
08 You Ging Rich (Instrumental)

Mixed & mastered by ALXNDRBRWN 
Cover art by Lamadomus 

The producer/emcee (and the first signee to Strange Famous Records) has spent his past 20 years as Prolyphic crafting a collection of classic indie material under a name chosen with all the enthusiasm and hubris of an aspiring teenage rap addict. While his work ethic never wavered, the finished product trickled out at a pace that mocked his moniker - it was the polar opposite of prolific, with new sounds escaping the lab every half a decade or so. He dropped formidable platters with underground hip hop production legends Reanimator (The Ugly Truth) and Buddy Peace (Working Man) before spearheading SFR's digital imprint SFdigi with his self-produced LP DNGRFLD in 2016.
"I was 17 when I first started to get recognition under the name Prolyphic," the freshly-minted Mopes explains. "I was a kid. I was making music to find out who I was. I'm now 40, an adult man, a father who has a career, knows who he is and is now comfortable in his own skin. I went through so much shit between the ages of 17 and 40 that I couldn't make music under the same pseudonym again. I'm just not that same person anymore. Prolyphic is out, Mopes is in."
The self-titled debut EP from MOPES contains four slabs of granulated granite, rhythms and rhymes broken down and built back up again, resulting in formations carved by the hands of a master craftsman. Every line, note, and drum beat screams no-fucking-around.

The first single and video, "Facts Machine," manifests a new-era version of the classic Prolyphic style: masterfully manipulated soul samples and neck-knocking drums drizzled with dense and thoughtful lyrics, delivered with an unflappable flow in the cadence of a vested veteran. 
The posse cut "Party McFly" features SFR label overlord Sage Francis leading the charge, with a fresh crop of StrangeFam in tow: emcees BlackLiq (Virginia) and Jesse The Tree (Rhode Island) make their splashdown in Strange Famous waters with an impact that creates a wave sure to be felt for years to come. 
"I'm excited, I'm having fun and there's a lot to look forward to," says Mopes. "Ya boy is putting that work in and being very prolific." 
The eponymous debut EP is available now to stream or purchase on all digital platforms, including Spotify, Apple Music, Tidal, and Amazon.

Limited edition package deals including T-Shirts and 7-Inch Lathe Cut Records are exclusive to StrangeFamous.com, and include the full digital EP + Instrumentals (only available at SFRstore)! 
----------------------


SOME INFORMATION ABOUT LATHE CUT RECORDS:
How do these sound?
Lathe cuts will always have some degree of surface noise/pops/crackles, which tends to largely disappear once the music starts, especially for full, loud recordings. However, these lathe cuts are not audiophile records, or even comparable to standard pressed records. They will sound slightly different than the master, because the plastic reacts to certain frequencies differently. They are made from materials that were never intended to be records. Sound quality varies slightly from one record to the next, and some audio tracks translate better than others. There are many factors that determine the sound of the record; the material, the number of records that have been cut by the stylus, the climate, etc… But we drop-test them all and throw away any that are not up to standard. They are all totally listenable, but intended to be used more as playable art pieces. These lathes are not meant to be the way your track is regularly listened to. 
Are these as loud as a normal record?
Unfortunately, No. Our cutter heads are 70 years old and utilize a magnet that has, over the years, degraded a little. They were also made before the loudness war and were never intended to produce the kind of volume that modern stereo cutting heads made in the 70s and 80s were geared for. On top of that, the plastic that is used is harder than a lacquer that is used to master a pressed record, and the heads has to work much harder, resulting in less volume (about 75% that of a modern record). So, you will have to crank up your amplifier a few notches past where it usually sits.
Will these play on any turntable?
These records do not always play well on all turntables, especially cheap turntables without a weighted tonearm. However, they have all been play tested to make sure that they track on a properly weighted record player. Lighter tonearm weight and neutral anti-skating works best. Sometimes the needle will get caught in between the grooves and sound awful. You can usually gently nudge the needle sideways into the bottom of the groove, which should fix the problem. 
Inexpensive players with red cartridges/needles in particulars tend to have more problems than professional cartridges.
Will these records degrade or hurt my needle?
Absolutely not. These records are made out of hard polycarbonate plastic and will last as long as a pressed record. And your needle will not know the difference between this plastic or the PVC that pressed records are made of. The old adage that Lathe Cuts ruin your needle is a product of lacquer "dub plates" or "acetates". Lacquers are extremely soft, and with repeated plays, the lacquer would wear off and build up on your playback needle. We DO NOT use lacquers and DO NOT have this problem. We listen to lathe cuts 12 hours a day in the studio, and rarely change out our playback styli.