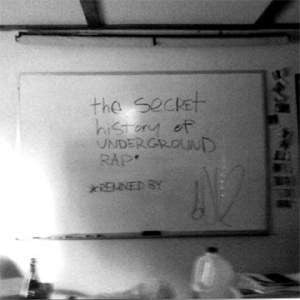 Sole - The Secret History of Underground Rap CD
The Secret History of Underground Rap

Anticon's Tim Holland (aka Sole) took to the production board and
remixed his favorite hip-hop songs from the 90's.

This is an extremely limited tour CD that Sole put together in the month of August, 2008. There are only 1000 copies in existence and we got our hands on a few.

If you grew up listening to underground hip-hop from the 90's then
this is a fresh take on some of the best songs from that era. If you
are new to this side of the genre then it is a great history lesson.

This CD featured some of the most influential tracks from the 90s,
remixed in Sole's "mansbestfriend" fashion. The Secret History of
Underground Rap includes:

Organized Konfusion "Bring it On"
Aceyalone "Mic Check"
Notorious B.I.G. "Suicidal Thoughts"
Nas "The World is Yours"
Ras Kass "etc."
Saafir "Light Sleeper"
O.C. "Times Up"
Crooklyn Dodgers "Crooklyn"
Public Enemy "By the Time I Get to Arizona"
Ultramagnetic MCs "Poppa Large"
Mr Complelx, "I'm Rhyming"
Genius "Labels"