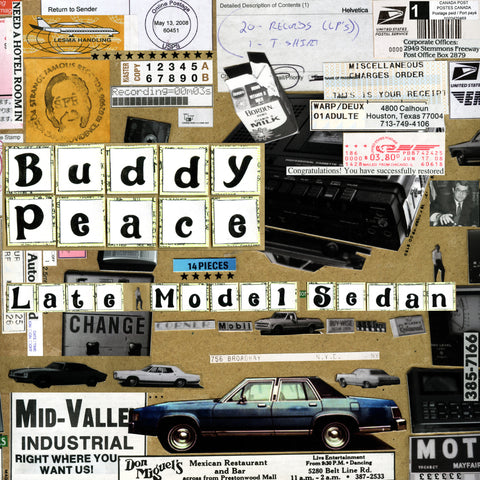 Buddy Peace - Late Model Sedan MP3 Download
Strange Famous Records' secret weapon Buddy Peace takes you on a sonic odyssey with his official debut digital release Late Model Sedan!
Journey along a highway littered with electronic hip-hop, fractured spoken word, hypnotic drones, and ferocious straight up beat programming, finished off with the type of fine American sparkle that only a UK production whiz could provide. Late Model Sedan is as mesmerizing when the needle hits 100 as it is while sitting proudly in the driveway.
Full Tracklist :
01 Buddy, You Look Sick
02 Datsun Gauze
03 Hawkstring Corpse (Gooder Grief)
04 Auburn Pelog Error
05 Arcade Murderflash
06 Rcdmrdrflsh
07 Golden Block District
08 Shortlands Road Suite
a) Cherry Tree Recorder
b) 76, 79, 80
c) Drama School 371
09 Court Order Blue 
a) Chrome Porch Script
b) Teleprompter Blaze
10 Austin Funeral Stress Tapes
11 Ample Champ
12 Human Cadillac
13 Steam Dashboard Intermission
14 I Explode (Why Bomb, Why?)

------------------------------------------------------------------
"Turntable genius and mixtape maestro Buddy Peace returns with his first official digital long-player, released on the Strange Famous label. Blending together supremely artful drum-sculpting with snippets of more abstract sounds (as well as a wide-ranging palette of vocal samples, this makes for one of this year's more interesting and organically experimental hip hop instrumental suites. More so than on most albums of this ilk, Buddy's music really takes you on a journey of some sort, but better still, along the way your travelling companions will be a dazzling array of beats, ranging from dark and jazzy, off-kilter figures (as on 'Hawkstring Corpse') to heavier, hiss-laden break treatments ('Arcade Murderflash'). Expertly put together and inventive throughout, Late Model Sedan comes recommended to all open-minded hip hop heads." - Boomkat.com
"Buddy is a collector of sound, almost as if works in a room with all the windows open and fifth televisions and radios tuned to different stations. He chooses and slices the sounds he wants and rearranges them into the most street of compositions. You hear the cars and the people and the culture and the noise of music in everyday life. With, of course, a large dollop of hip-hop as the glue that holds all this musical detritus together." - KeithPishnery.com