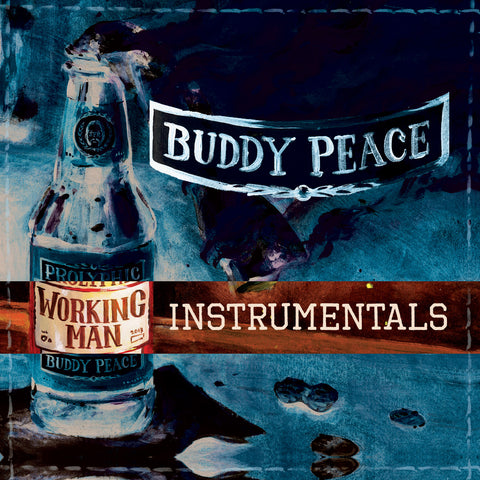 Buddy Peace - Working Man Instrumentals MP3 Download
This is an instrumental version of the Prolyphic & Buddy Peace "Working Man" LP, entirely produced by BUDDY PEACE!
Words about the original album, which is available here on SIGNED CD & MP3 Download:

PROLYPHIC (Providence, RI) was signed to STRANGE FAMOUS RECORDS in 2005 when SAGE FRANCIS partnered up the introspective lyricist with his long-time production partner, REANIMATOR. The subsequent album, THE UGLY TRUTH, received critical acclaim even though it didn't quite match the success of the auto-tuned raps it sat beside on the charts that year. That was 2008, and by today's standards that's practically a lifetime ago. 5 years later the snarling, pessimist emcee has emerged once again, this time with eclectic DJ/Producer extraordinaire BUDDY PEACE (London, England,) to answer the question: "Where has Prolyphic been?" The content of this new album makes it abundantly clear; "in the same hell as you."

WORKING MAN takes the all-too-familiar tales of family turmoil, cancer scares, lack of health care, unemployment woes and then forges them into blue collar anthems. Buddy Peace's obscure loops and dusty breaks give the musical backdrop a quintessential "golden age" throwback sound, while Prolyphic uses grim life experience as the launching pad for an exploration of realities that are bigger than one man's experience. This is a collective experience and it comes across as such. We all know someone with cancer. We all feel the pinch of the bad economy. Now it becomes a matter of what to do with that frustration and how to address the bigger picture.

Prolyphic uses the personal approach and goes for the throat like never before. On songs like "DRUG DEALER" we hear about doctors pushing pharmaceutical products on his mother to treat her cancer, and why her ultimate decision was to refuse them. "SIX FEET HIGH" tells the story of his father losing the family business in the floods that overran New England a few years back. With his unique honesty in full view, Prolyphic courageously tells the story of what it meant to rebuild everything from scratch without help from the Government, and why experiences like this have working class New Englanders "losing faith in the Democrats."
Download the first single "Business As Usual" FREE by clicking the arrow icon in the player below!

It's not all doom and gloom though. The first single, "BUSINESS AS USUAL," has Prolyphic double-timing his vocals while weaving lyrics around a catchy, Buddy Peace bounce pattern. "DEATH OF THE BOOMBOX" is a playful posse cut that features SFR label mates SAGE FRANCIS and METERMAIDS. Songs like "FUCK BANKS" use clever metaphors which help to illuminate the reasons why everyone is so disgruntled over their paychecks being "held for ransom." If the new generation of hip-hop fans are no longer interested in deriving meaning from their music, the intricate beat layering and masterful wordplay used throughout makes it more than worth the journey for them. However, in a musical climate where so much airtime is wasted on throwaway bars and the latest dance crazes, it's refreshing to see a duo like this making brave, honest music.

TRACKLISTING:
01 Stale Bread Winner Part 1
02 Business As Usual
03 Unpopular Demand
04 Drug Dealer
05 Death of the Boombox feat. Sage Francis & Metermaids
06 Bad Influence
07 F*** Banks
08 Six Feet High
09 Midtro
10 Hand Grenade
11 Go Green
12 The Tunnel
13 Stale Bread Winner Part 2