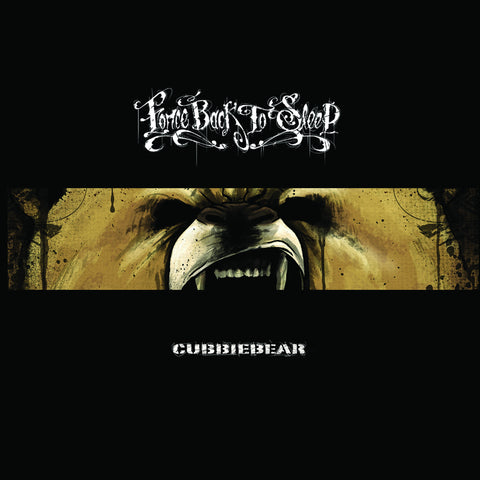 Cubbiebear - Force Back To Sleep MP3 Download
"This guy came out of nowhere and has made a serious name for himself in underground circles. Not only is he a producer but he is a formidable emcee as well, and we'd like to congratulate him on winning the popular vote." - Sage Francis (on Cubbiebear's victory in the 2008 Strange Famous Records remix contest)


Cubbiebear is a Baltimore based rapper/producer/engineer who actually knows what he's doing with all three. His music is a battleground of explosive beats flanked by fearless lyrics  on the racial, sexual, spiritual, and financial hypocrisy littering indie rap's landscape.
The ontological brilliance of Cubbiebear's "Force Back To Sleep" is that he dismantles every imaginable man-made construct, reduces each to its naked hypocrisy, and ultimately accepts that there is no escaping any of them because humans Still Can't Fly. Stupidity is an evolutionary tool that allows defenseless thought and action to be defended, but we're all stupid enough to defend them. Religion allows believers to praise a god who consciously lets its creations suffer, but we all have our own merciless gods. Friends and lovers will offer friendship and love until apathy becomes more comfortable, but being alone is its own apathetic hell.
The pace, tone, and passion which defined Cubbiebear's 2008 release "The Rape" are more sonically and thematically refined on "Force Back To Sleep." The explosions of his production are more explosive, the poignancy of his writing is more poignant, and the intensity of his subject matter is more intense. The topic of choice evolved from dissecting rap and his place in it into examining life and his role in it.
Perhaps nothing reflects Cubbiebear's artistic growth between albums more than the comedian he samples. On "The Rape," Daniel Tosh's observational shock value amplifies Cubbiebear's laser sharp focus on modern absurdity. On "Force Back To Sleep," Joe Rogan's insightful philosophies about human purpose set the tone for Cubbiebear questioning whether this existence is worth being sober (let alone awake) for.
TRACKLISTING:
01 Alcohol For Sleep

02 Make Fist
03 Still Can't Fly
04 I Don't Care
05 Patience
06 Tear It Down
07 Sick
08 Tame
09 Sunshine
10 Smile
11 Adam