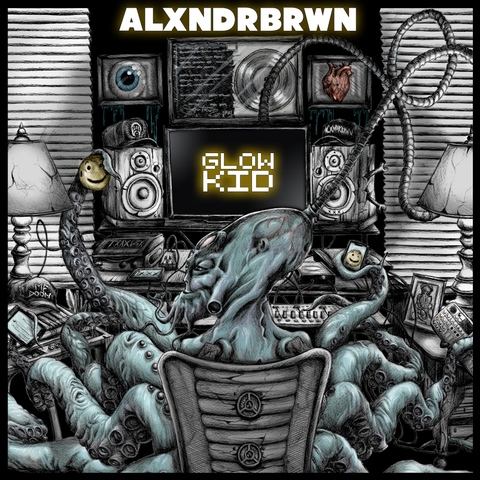 ALXNDRBRWN "Glow Kid" 7-Inch Record + MP3
THE ORIGINAL RUN, LIMITED TO 30 HAND-NUMBERED COPIES, HAS SOLD OUT - copies from this extremely limited 2nd pressing will be hand-'numbered' with your initials!
(for example, AB/30)
----------
"GLOW KID" is the new LP from producer ALXNDRBRWN!
Known for his 2020 lo-fi beats SFR debut "The Alex Brown Project" and his work on Sage Francis' "Copper Gone" LP, the soundscape artist has brought together a gang of his Strange Famous crewmates to help create his latest opus: "Glow Kid" features appearances by SAGE FRANCIS, BUCK 65, CAS ONE, BLACKLIQ, MOPES (FKA Prolyphic), SWELL (ex-Metermaids), SEEZ MICS, JESSE THE TREE, BUDDY PEACE, and more! 
----------
Orders for this product page will receive:
1x "Problems Got Problems" b/w "Get Those Birds" 7-Inch Lathe Cut Record
1x "Glow Kid" full album 320kbps MP3 Download 
- link to download a .zip file of the mp3s will be delivered to your inbox after completion of checkout
- MP3s must be downloaded on a computer, not a mobile device
1x SFR Sticker [design randomly selected by SFR staff]

----------

Check out the first single "Problems Got Problems" featuring Sage Francis!
TRACKLIST
01 Intro
02 Problems Got Problems feat. Sage Francis
03 When The Pot Boils feat. Mopes
04 Get Those Birds feat. Jesse The Tree & Swell
05 Dream School feat. Sage Francis & Buck 65
06 Rest
07 Heavy Footed feat. For Me 
08 Caught In A Jam
09 What's The Difference feat. BlackLiq
10 A Boy Nostalgic for the Future feat. Cas One 
11 Irony feat. Seez Mics & Cas One
All tracks produced by ALXNDRBRWN
Additional vocals by Amber Rachelle Coyle
Cuts by Buddy Peace
Artwork by Tai Taeoalii 
Additional track credits:
02 Additional vocals by Lynzi Stringer 
04 Additional vocals by Sage Francis
05 Additional vocals by Lynzi Stringer & Swell
11 Additional vocals by Genelle Wecker 
-----------------------
SOME INFORMATION ABOUT LATHE CUT RECORDS:
How do these sound?
Lathe cuts will always have some degree of surface noise/pops/crackles, which tends to largely disappear once the music starts, especially for full, loud recordings. However, these lathe cuts are not audiophile records, or even comparable to standard pressed records. They will sound slightly different than the master, because the plastic reacts to certain frequencies differently. They are made from materials that were never intended to be records. Sound quality varies slightly from one record to the next, and some audio tracks translate better than others. There are many factors that determine the sound of the record; the material, the number of records that have been cut by the stylus, the climate, etc… But we drop-test them all and throw away any that are not up to standard. They are all totally listenable, but intended to be used more as playable art pieces. These lathes are not meant to be the way your track is regularly listened to. 
Are these as loud as a normal record?
Unfortunately, No. Our cutter heads are 70 years old and utilize a magnet that has, over the years, degraded a little. They were also made before the loudness war and were never intended to produce the kind of volume that modern stereo cutting heads made in the 70s and 80s were geared for. On top of that, the plastic that is used is harder than a lacquer that is used to master a pressed record, and the heads has to work much harder, resulting in less volume (about 75% that of a modern record). So, you will have to crank up your amplifier a few notches past where it usually sits.
Will these play on any turntable?
These records do not always play well on all turntables, especially cheap turntables without a weighted tonearm. However, they have all been play tested to make sure that they track on a properly weighted record player. Lighter tonearm weight and neutral anti-skating works best. Sometimes the needle will get caught in between the grooves and sound awful. You can usually gently nudge the needle sideways into the bottom of the groove, which should fix the problem. 
Inexpensive players with red cartridges/needles in particulars tend to have more problems than professional cartridges.
Will these records degrade or hurt my needle?
Absolutely not. These records are made out of hard polycarbonate plastic and will last as long as a pressed record. And your needle will not know the difference between this plastic or the PVC that pressed records are made of. The old adage that Lathe Cuts ruin your needle is a product of lacquer "dub plates" or "acetates". Lacquers are extremely soft, and with repeated plays, the lacquer would wear off and build up on your playback needle. We DO NOT use lacquers and DO NOT have this problem. We listen to lathe cuts 12 hours a day in the studio, and rarely change out our playback styli.