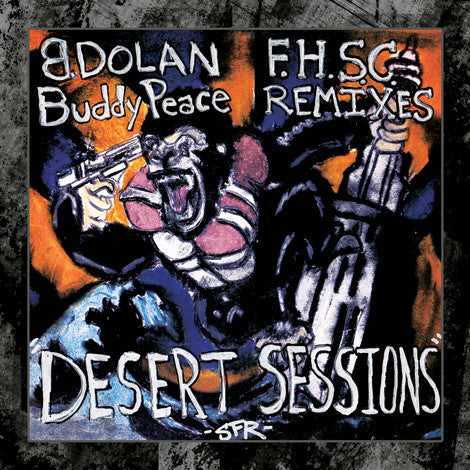 B. Dolan & Buddy Peace - Fallen House Remixed: The Desert Sessions MP3 Download
B. Dolan and Buddy Peace have teamed up to present to you FALLEN HOUSE SUNKEN CITY REMIXED: THE
DESERT
SESSIONS
, a complete LP remix of B's 2010 album, produced by Buddy.

Here's what Mr. Peace had to say about the endeavor:
"One day B. Dolan gave me access to the vocal tracks for 'Fallen House, Sunken City'. I took the rest of the week off with enough coffee to lubricate a small newsroom and gave myself the task of remixing one of my favourite hip hop albums in recent years.

The relentless bump and heft of the original beats always killed me, and rather than try and match what Alias created first time round, I decided to raid the stoner metal and

desert

sludge rock crates to form new beats for B to absorb, to try and make it bang in a different way than before. I wanted to create my own kind of sludge-feast, my own kind of

desert

sessions

.

B's original blueprint is all there, but this time I'm dragging you through the

desert

by your ankles. You're welcome. NEVER STOP TO REST."
FHSC REMIXED: THE DESERT SESSIONS is available as a FREE MP3 Download (of the full album stream at 128kbps) in our Clip of the Week section here.

A SIGNED and numbered CD edition of the project is available for purchase only from SFRstore here.



Artwork for the limited CDs by Durty Art.

Tracklisting: 

01 Leaving New York (Buddy Peace Remix)
02 Fifty Ways to Bleed Your Customer (Buddy Peace Remix)
03 Economy of Words (Bail it Out) (Buddy Peace Remix)
04 Earthmovers (Buddy Peace Remix)
05 The Reptilian Agenda (Buddy Peace Remix)
06 The Hunter (Buddy Peace Remix)
07 Marvin (Buddy Peace Remix)
08 Kitchen Sink (Buddy Peace Remix)
09 Border Crossing (Buddy Peace Remix)
10 Fall of T.R.O.Y. featuring P.O.S. & Cadence Weapon (Buddy Peace Remix)
11 Mr. Buddy Buddy (Buddy Peace Remix)
12 Body of Work (Buddy Peace Remix)