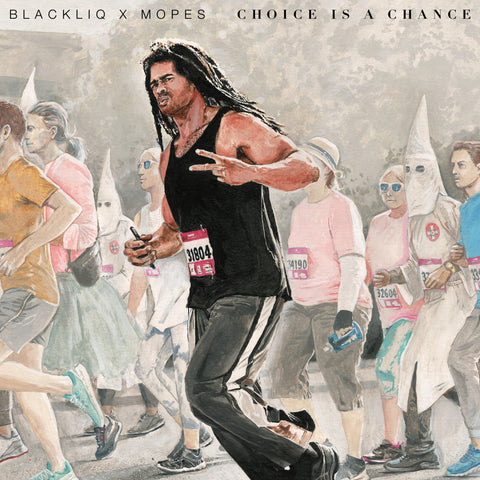 BlackLiq x Mopes - "Strange Famous" 7-Inch Record + MP3
Strange Famous Records is proud to present the return of BLACKLIQ x MOPES!

The sophomore effort from emcee BlackLiq and producer Mopes, following their 2021 debut "Time Is The Price," drops March 31, 2023 at Bandcamp (April 14, 2023 everywhere) on Strange Famous Records!

Check out the first video from the album, "Strange Famous"!


Pre-order limited edition 7-Inch Lathe Cut Records + Cassettes at http://TinyURL.com/BlackLiqXMopes, or get the digital download at BlackLiqxMopes.Bandcamp.com!
"This album isn't a sequel. This is what happened next… but it's also what is happening now." - BlackLiq
Choice Is A Chance is the second album on Strange Famous Records from the duo of emcee BlackLiq (Richmond, VA) and producer Mopes (Providence, RI), but it's not a bridge between beginning and end, as many second acts are built to be. It's another step forward in a journey that has no planned finish, just as its beginning was never conceived, but simply lived. 
"There's an aspect of maturity to these songs that isn't present in Time is the Price (the pair's 2021 SFR debut), and that allows the record to journey to places where, as a listener, I would expect confidence from someone who has introduced themselves in the way that I did," explains Black. "Embedded in the foundation of this album is the fact that I am not trying to convince the listener, just as much as I am not trying to convince myself. It's building with acceptance instead of building up to acceptance."
This maturity and confidence in part springs from the bond forged between the two musicians during the sessions for their first album, which led to the progression apparent in the second, as Mopes explains: "When producing Time Is The Price, Black and I really hit our stride with the last two songs we made for that album, which were "Endtro" and "Dumb." I knew we weren't done. We found our sync point and set the foundation for us to be able to push ourselves further with Choice Is A Chance. Most of TITP was assembled piecemeal from previously-made beats, whereas the production for CIAC I built from the ground up. Every beat was constructed specifically for Black, for this album."
Black continues: "When we did Time Is The Price every song I wrote was me progressively getting more unhinged with what I, at that time, found to be the areas of my story and my life that I was comfortable sharing. This time, I went in unbridled."

The artistic comfort zone that resulted from the process of formulating the first album helped to cement their ties, bringing them beyond a casual collaboration, but just short of an official 'group.' Mopes describes their working relationship: "Black and I are an interesting duo. We both share the same energy, work ethic, and love for hip-hop. But, when the dough's not ready, the dough is not ready, and while it's developing, we're each going to go off and flex our creative muscles in whatever way we see fit until it's becomes apparent that it's time to circle back to the business at hand. We're patient with each other, and when we're both locked in we cook something special. We've learned how to communicate, agree, disagree, and gain trust with each other. I love working with that dude. He brings something out of me and I bring something out of him. I'm super proud of this project and I don't think heads is ready for how good it is."

In many ways, TITP acted as a trailer for the fleshed-out cinematic epic that is CIAC: "On the first record, my being so candid in very matter-of-fact ways, led to a lot of surprised reactions - "oh, his dad's in prison," or, "he did shows with major artists and realized that they suck,'" Black recalls. "That was me making minutes out of moments, this is me making moments out of minutes - reflecting, instead of looking back. I did a lot of remembering on Time Is The Price to set the story and to give people glimpses into my world. I've slowed down a lot of the passage of time on this album to bring shit into focus and stare at it all."
As the title infers, these songs take chances, a conscious choice made by the artists: "Lyrically, I wasn't even trying to rhyme, and a lot of this hits in a conversational tone. There's not many end-to-end schemes, and none of this shit was written to make me sound cool or to shock people." The uncharacteristic approach to the construction of the tracks also informed the selection of the first single: "That's why I felt like 'Strange Famous' had to be first. The obvious homage to the label's name aside, it's a reminder that none of our lives fit into a pretty box, and just because you may gain a level of fame doesn't make it any less strange," Black grins: "If anything, it's quite the opposite."
While "Strange Famous" became the first visual from the album, Black made it clear that within every track is a lesson worthy of the listener's focus: "'The Tooth' requires you to be deceived and uncomfortable, just like I was and am. The magic of this album is that it isn't a trick, its honest. 'Music' felt like a conclusion as much as a confession. Referring to my last album as 'piece of advice' and that 'I wrote all of those rhymes in the wind like a chime / it felt like the first time your attention was mine' - whether i thought it at the time i wrote it, or just now, it really drives home to me just how much i've made peace with all the years I've spent paying dues. Like, how long can you live angry about some shit that you thought you were in control of, before you realize that the anger is just ego, and in reality, you had no control over how things turned out at all?"
In the end, Choice Is A Chance is anything but a conclusion: "I guess what I'm trying to say is, for once, I'm not sitting here thinking 'how did I get here?' After we escape the maze of feelings and failure, we get a chance to grow into appreciation. It all starts with a choice, and this is mine."
----------
Orders for this product page will receive:
1x "Strange Famous" b/w "Dogs That Bark But Don't Bite" 7-Inch Lathe Cut Record
***Limited Edition hand-numbered 1st pressing of 30 copies!
1x BlackLiq x Mopes "Choice Is A Chance" 320kbps MP3 Download 
- includes the full 12-song album!
- link to download a .zip file of the mp3s will be delivered to your inbox after completion of checkout
- MP3s must be downloaded on a computer, not a mobile device
1x SFR Sticker [design randomly selected by SFR staff]
1x Bonus Vinyl record from The Great Sage Francis Record Collection Purge of 2021

----------
7-INCH RECORD TRACKLIST
A - Strange Famous
B - Dogs That Bark But Don't Bite 
DIGITAL DOWNLOAD TRACKLIST
01 Strange Famous
02 Therapy
03 Little Me
04 In The Beginning
05 The Tooth
06 Dogs That Bark But Don't Bite
07 Careful
08 How I Did It
09 Apart
10 Wat
11 Words From Black
12 Music

Mixed & mastered by DJ Zole 
Cuts by Buddy Peace
Cover art by Pat Jensen

Limited edition package deals are exclusive to StrangeFamous.com, and include the full digital LP! 
-----------------------
SOME INFORMATION ABOUT LATHE CUT RECORDS:
ARE LATHE CUT RECORDS AND VINYLS THE SAME THING???
No, because "vinyls" don't exist. Don't say "vinyls." Ever. The plural of 'vinyl' is 'vinyl.'
Fine, smartass. Are lathe cut records the same as vinyl records? 
They look similar, they both play music when you set them on a turntable and put a needle to their grooves, but they're manufactured from different materials by a different method. This difference in materials and method allows for smaller quantities to be created. Read on for more details. 
How do these sound?
Lathe cuts will always have some degree of surface noise/pops/crackles, which tends to largely disappear once the music starts, especially for full, loud recordings. However, these lathe cuts are not audiophile records, or even comparable to standard pressed records. They will sound slightly different than the master, because the plastic reacts to certain frequencies differently. They are made from materials that were never intended to be records. Sound quality varies slightly from one record to the next, and some audio tracks translate better than others. There are many factors that determine the sound of the record; the material, the number of records that have been cut by the stylus, the climate, etc… But we drop-test them all and throw away any that are not up to standard. They are all totally listenable, but intended to be used more as playable art pieces. These lathes are not meant to be the way your track is regularly listened to. 
Are these as loud as a normal record?
Unfortunately, No. Our cutter heads are 70 years old and utilize a magnet that has, over the years, degraded a little. They were also made before the loudness war and were never intended to produce the kind of volume that modern stereo cutting heads made in the 70s and 80s were geared for. On top of that, the plastic that is used is harder than a lacquer that is used to master a pressed record, and the heads has to work much harder, resulting in less volume (about 75% that of a modern record). So, you will have to crank up your amplifier a few notches past where it usually sits.
Will these play on any turntable?
These records do not always play well on all turntables, especially lower-end/inexpensive model turntables without a weighted tonearm. However, they have all been play tested to make sure that they track on a properly weighted record player. Lighter tonearm weight and neutral anti-skating works best. Sometimes the needle will get caught in between the grooves and sound awful. You can usually gently nudge the needle sideways into the bottom of the groove, which should fix the problem. 
Inexpensive players with red cartridges/needles in particulars tend to have more problems than professional cartridges.
Will these records degrade or hurt my needle?
Absolutely not. These records are made out of hard polycarbonate plastic and will last as long as a pressed record. And your needle will not know the difference between this plastic or the PVC that pressed records are made of. The old adage that Lathe Cuts ruin your needle is a product of lacquer "dub plates" or "acetates". Lacquers are extremely soft, and with repeated plays, the lacquer would wear off and build up on your playback needle. We DO NOT use lacquers and DO NOT have this problem. We listen to lathe cuts 12 hours a day in the studio, and rarely change out our playback styli.