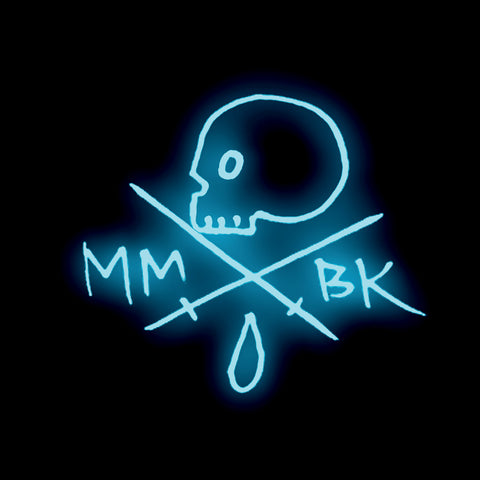 Metermaids - We Brought Knives MP3 Download
*ORDERS PLACED FOR THIS PRODUCT PAGE WILL INCLUDE:

1x Metermaids "We Brought Knives" MP3 Download

--------------------
We Brought Knives is the newest album from Brooklyn group Metermaids, dropping December 2 on Strange Famous Records. The record is the culmination of a trio of lifetimes of hip hop experience colliding with nearly a decade of time served as underground rap's illest-equipped would-be gunslingers.

"PROFITEER" is the first video from We Brought Knives!

Metermaids have always found a way to blend humor with the confessional, narrative with the personal, and the human with the electronic. Years of trial-and-error mixed with swipes of modest success have refined this formula, and the result is "We Brought Knives", the group's most streamlined effort to date. "We may have been spending those years bringing knives to gunfights," reflects rapper Swell, referring to their string of previous near-misses. "But rest assured that, at this point, those knives are mad sharp, son."
Producer M. Stine lays out his masterpiece: dense, melodic production set atop rhythms that hit with the punch of the rowdiest hip hop around, subtly layered with enough detail to reward even the most discerning listener. Emcees Sentence and Swell, renowned for the incredible chemistry present in their traditional back-and-forth delivery, attain a new level of remarkable synergy in their rhymes. This is no gimmick - this is the choreography of a mind-meld between two guys who have spent enough years locked in tour vans and recording studios together that they can finish each other's thoughts.
"Eight years is enough time to build up the desire in a group to construct a defining statement," says Sentence, explaining the intent behind the group's cohesive and fresh sound. "Because, you know, who knows what the next eight years could bring."
"We Brought Knives" also features legendary SFR label boss Sage Francis, (fresh off of his blockbuster "Copper Gone" record), as well as Strange Famous cohorts Prolyphic and Buddy Peace.
The sonic aesthetic of Metermaids has evolved beyond a series of sounds made by two rappers and a producer, and now emerges as a collection of fully-formed hip hop compositions forged by a unit that has spent the better part of a decade growing into a band of brothers. "We Brought Knives" truly is a family affair, and is without a doubt the best record of Metermaids' career.
// // //
For those unfamiliar with the history of the group: In the spring of 2007, Metermaids began in earnest, as emcees Sentence and Swell, backed by producer M. Stine, in the middle of a DIY national tour. The tour was not a success. But a lot has changed in the last seven years.
The official tally runs: two full length records, four mixtapes, well over 100,000 downloads, press coverage in international publications, three national tours, one East Coast tour with rap legends The L.O.X., two cliched let-downs from major labels, one showcase for Damon Dash, two marriages, two kids, and hundreds of electrifying live shows with their Strange Famous crew mates thrown in along the way for good measure.
Watch Metermaids speak to TheBeeShine about the making of "We Brought Knives":

"We Brought Knives" drops December 2, 2014 on Strange Famous Records.
TRACKLISTING:
01 The Legend Of Mal Hombre
02 House On Fire
03 I'm Alive So Everything I Own Is My Lucky Everything feat. Sage Francis & Prolyphic / cuts by Buddy Peace
04 Profiteer
05 Advice I Know You Won't Follow
06 IYAM
07 The Contenda
08 Est. 1938
09 Ghost Bikes
10 God And Country
11 Bushmaster .223
12 Clarence Clemons