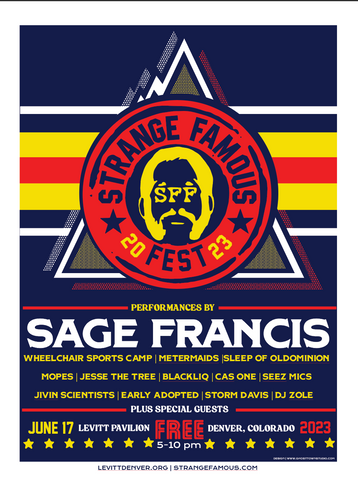 Strange Famous Fest Signed Screenprinted Poster
***PRE ORDER SHIPPING INFORMATION***

Please read carefully! ALL pre orders will be held until the ship date. ALL other items in your shopping cart will also be held until the ship date. If you have items that you may want to receive sooner we suggest placing a separate order for those items.

Orders will ship on or around the release date of Monday, August 30, 2023.*
*ship date subject to change in the event of manufacturing delays. 
Please check this page for current updated ship date.

------------------------------------------------------------
The first Strange Famous Fest happened on July 17, 2023 at Levitt Pavilion in Denver, Colorado!
For those who couldn't be there but want to complete their SFR collection, or if we ran out of your size at the merch booth, we've decided to make some extra fest garb available for a limited time via SFRstore!
Check out the whole Strange Famous Fest line of gear here. 
-------------

This product page is for the limited edition screenprinted Strange Famous Fest gig poster

Designed & hand-printed by Pete Cardoso at GhostTownStudio.com
Limited run of 100 posters signed and hand-numbered by Pete (who also designed our 2008 SFR SXW Showcase poster - IYKYK!)

These posters made their way from Providence to Denver and back to New England, so there may be some small dings or defects, but they'll look great framed. We'll make sure to do everything we can to only select posters with minimal road-weariness. 

PLEASE NOTE: Posters will be shipped in a sturdy tube for protection, so if you order other items with your poster, the tube will arrive separately from your other items. 

-------------
***Please visit the Frequently Asked Questions section of our website here 
BEFORE YOU ORDER to review information about our shipping practices & policies. 
-------------