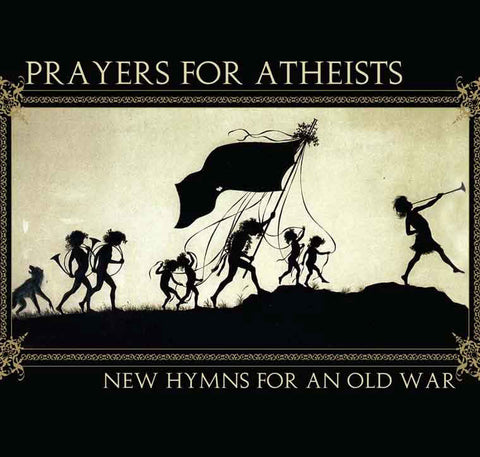 Prayers For Atheists - New Hymns for an Old War MP3 Download
A few words on the project from the SFR crew:

"In 2009, Strange Famous Records released the debut EP from Prayers For Atheists. Now, in 2011, SFR is proud to support the boys as they release their follow-up album, "New Hymns For An Old War," on their own PFA Records label! The new record is more of a punk project than the first EP, and we highly recommend you check it out. They've honed in on a more specific style with this project but the activist message rings as loud as ever."
"New Hymns For An Old War" is the strikingly uplifting follow-up to Prayers For Atheists' acclaimed debut on Sage Francis' label, Strange Famous Records. Thrashing rapidly between mid-80's hardcore punk, sing-along anthems, and politically-slanted rap, the group gracefully snakes in and out of genres while escaping categorization.
New Hymns is an aggressive step forward for a band that lives what it sings about - from local organizing and civil disobedience to county jail and courtroom triumph. This album differs sharply from current trends in protest music in that it expresses an uncompromising sense of hope, with little room for cynicism or despair.
The first single "Guns Up" takes its inspiration from the Harlan County coal miners' strike of 1972, while the lyrics for "May 1, 1886" are comprised of the trial testimony of August Spies, the American labor activist who led the Movement For The 8-Hour Work Day. Spies was executed on charges later found to be unconstitutional, but his unjust death only emboldened the movement. The ensuing struggle resulted in legislation mandating the 8-hour work day, overtime pay, and worker safety standards.
Lead vocalist Jared Paul is a top-notch writer, possessing the ability to tackle social issues without sloganeering or self-righteousness. The passion and conviction in Paul's voice are undeniable as they cut through the mix of Alan Hague's masterful songwriting. Hague composed and recorded all music for New Hymns, which features his voice significantly more than PFA's last release. His Dave Grohl-esque vocal melodies soar on choruses for "Guns Up," "Flies On The Water," and "Hope City Sky," while taking the lead on tracks like "May 1, 1886" and "Strength of Doves."
Described by CMJ as "[the sound of] Public Enemy bum rushing a basement hardcore matinee," Prayers For Atheists has gained respect in both punk and indie hip-hop circles, with 3 nationwide tours in the past 12 months. Their aggressive yet uplifting live show has won crowds over on both coasts, with PFA sharing the stage with Anti-Flag, Sage Francis, Mouth Sewn Shut, The Misfits, Flobots, and P.O.S. With the release of New Hymns, PFA will continue to tour heavily throughout the U.S., as they continue to establish themselves as a front-runner in taking the torch from punk champions like Against Me!, Anti-Flag, and Propagandhi.
These songs are labor testimonials, dance jams, and anti-war hymns executed with heart, craft, and integrity. This is Victory Music."
"Prayers for Atheists is punk-rap for the Dead Prez set. What sets PFA apart from most rock-rap acts is that MC Jared Paul has some real flow mastery. Meantime, his bandmates play more than just the standard chugga-chug bullshit you might expect from this sort of genre fusion. Comparisons to Rage Against the Machine are obvious, boring, and missing the point entirely." - 

Vice Magazine