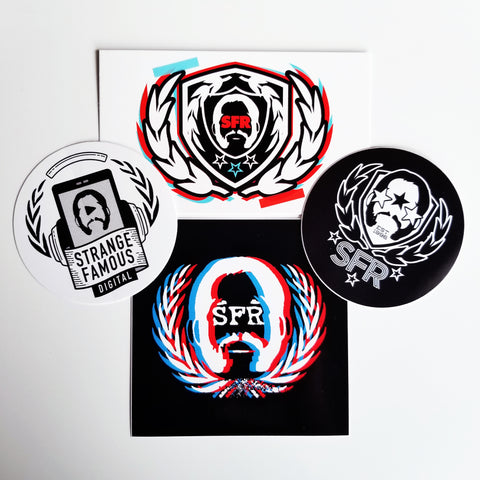 SFR LOGO Stickers - 10 Pack
Spread the word about Strange Famous Records everywhere you go!
A pack of 10 SFR LOGO stickers printed on all-weather vinyl.
***Packs will vary according to current available stock. We are out of most designs pictured, but will try to get some new pics soon!***
Images shown on product page are representative of styles of stickers you may receive, it is not a guarantee that you will receive any and/or all stickers shown.

You will receive a minimum of 2 DIFFERENT DESIGNS. You may receive multiples of a single design (but, then again, you may receive 10 different stickers - it all depends on our stock at the time of your order).

Stickers generally range in size from 3 inches to 6 inches, depending on design. 
Occasionally a design will be slightly smaller or larger.
If you have specific stickers that you would like to receive, please include a note listing them during checkout, and we will do our best to accommodate your request. We cannot guarantee requests will be fulfilled.