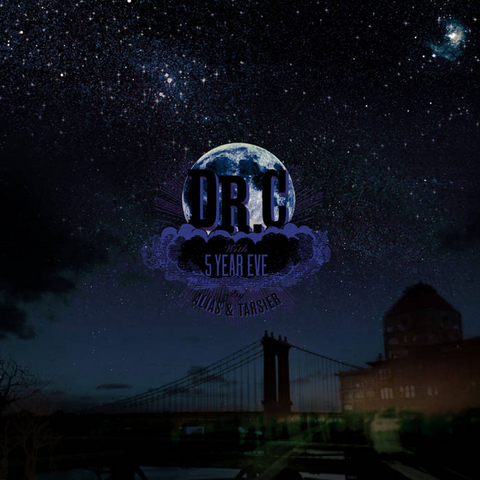 Alias & Tarsier - Dr. C / Five Year Eve VINYL EP
ALL PROCEEDS FROM THE SALE OF THIS PRODUCT GO TO THE FAMILY OF BRENDON "ALIAS" WHITNEY.

One gets the feeling that before meeting in person, Alias and Tarsier crossed paths someplace else, perhaps in some digital dreamscape out on the astral plane. "Dr. C," the lead-off single from the duo's upcoming full-length, Brookland/Oaklyn, drops us directly into this ethereal fantasy world. The title track opens with a crunchy swell curling its way through bits of noise and crackling static. After an upbeat guitar intro -- courtesy of Telephone Jim Jesus -- the song picks up and introduces to Tarsier's silky pipes. When Alias joins in with armloads of whirring keyboards, rickety clicks and scruffy bass beats, things settle into a surprisingly organic groove with Tarsier's bright voice leading the dance through the heavy atmosphere. The darkly drawn baroque beat of B-side "Five Year Eve" features cellist and Ecstatic Peace! recording artist Kirsten McCord contributing to a heady mix of rolling reverb and crackling percussion. Again, Tarsier's voice is the guiding light here, soaring above Alias's bare-bones mix of percussive skitters, synth accents, and cello flourishes. The single also features instrumental mixes of both tracks plus an exclusive remix of "Dr. C" from longtime Tarsier collaborator, Healamonster, who dubs the tune wide open. All in all, Dr. C couldn't be a better introduction to the alternately dulcet and dusky tones of the duo's full-length collaboration, Brookland / Oaklyn.
TRACKLIST
01 Dr. C
02 Dr. C (Healamonster Remix)
03 Dr. C (Instrumental)
04 5 Year Eve
06 5 Year Eve (Instrumental)