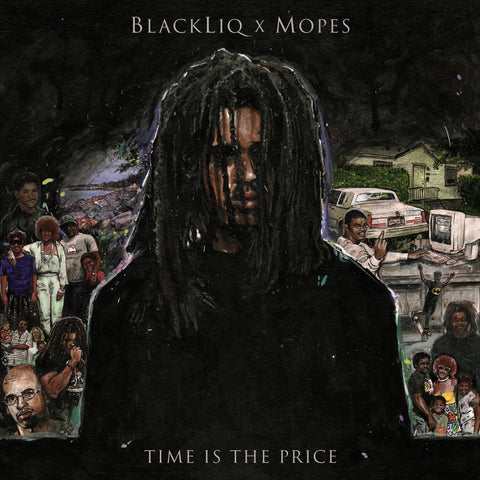 BlackLiq x Mopes - "Dumb" 7-Inch Record + MP3
Strange Famous Records is proud to present BLACKLIQ x MOPES!

Dark and driving, grounded in the crates buried beneath folding tables in flea market fields and filled with head-nod narratives for a generation too often locked in their own heads, "Time Is The Price" is an unflinching debut from a pair of veterans revitalized by their first full-length collaboration.
----------
Orders for this product page will receive:
1x "Dumb" b/w "Take Your Time" 7-Inch Lathe Cut Record
***Limited Edition hand-numbered 1st pressing - only 30 copies available!
1x BlackLiq x Mopes "Time Is The Price" 320kbps MP3 Download
- includes the full 8-song album!
- link to download a .zip file of the mp3s will be delivered to your inbox after completion of checkout
- MP3s must be downloaded on a computer, not a mobile device
1x SFR Sticker [design randomly selected by SFR staff]
1x Bonus Vinyl record from The Great Sage Francis Record Collection Purge of 2021

----------
7-INCH RECORD TRACKLIST
A - Dumb
B - Take Your Time
DIGITAL DOWNLOAD TRACKLIST
01 Endtro
02 Dumb
03 Don't Ask Me 
04 Worst Best Friend
05 I'm Not Right 
06 Guilty 
07 Words From Liq
08 Take Your Time 

Mixed & mastered by ALXNDRBRWN 
Cuts by Buddy Peace
Guitar on "Endtro" & "Guilty" by Alan Hague
Cover art by Pat Jensen

Richmond, VA emcee BlackLiq is unafraid to stare point-blank into the deepest, most reflective sectors of the abyss while holding his head high and rearranging his reflection into whatever form the future demands - he remains true to self while never allowing that allegiance to stunt growth. A long-time independent force, Black has filled the roles of radio host, promoter, journalist, mentor, and TEDtalk speaker, among many others. Respected as an emcee throughout the underground and above, he most recently appeared on indie rap juggernaut Atmosphere's latest album, "WORD?" Relentlessly kinetic and persistently willing to impart the life lessons that have led him to his hard-won place in the industry, he places all facets on display: "I'm not your enemy - I'm your worst best friend." 

Fresh off of his game-changing name change and self-titled reintroduction EP, Providence, RI producer Mopes (formerly Prolyphic) has crafted 8 rock-solid backdrops perfect for propping up Black's cataclysmic commentary. "All of the songs are written from Black's perspective and get very personal. They deal with his childhood, his relationship with his parents, coping with trauma, the criminal justice system," Mopes explains. "I tried to provide a landscape of peaks-and-valleys for Black to roller-coaster-ride on emotionally. The beats are based in a grimey, boom-bap foundation, but I made an effort to have them feel fresh, relevant and not sound dated. Nothing about this album is soft."
Indeed, the story that unfolds within is no surprise - rather, it's told in the titles of the tracks: "Don't Ask Me," "I'm Not Right," "Dumb." BlackLiq provides no easy answers, no simple instructions for deconstructing the debris and rebuilding a road forward. He tells it like it is, but doesn't rule out what could be. Nowhere is this more stark than in the hyper-personal track "Guilty," a boldly-told story about Black's father. "'Guilty' is a song that I am still living, that I can see everytime I hear it. It all happened and is still happening, which is why sharing it with people allows me to see the cage that it describes as a frame for the picture I'm painting."
"This album was written in the middle of what I would describe as a personal shitstorm," Black continues. "It's the result of removing layers of ego while watching society come to terms with the loss of its entitlements, and the realization that we were all socially distanced before social distancing. It was uncomfortable, hilarious, and liberating, because writing these songs required that I stopped caring. No rules, no "I shouldn't say that"... I wanted people to hear my story in the most simple, honest, unobstructed form, so that they could absorb the weight of it, and hopefully lighten their load, get a laugh or two, and then say, 'I wanna hear that again.'"

"Time Is The Price" is available now to stream or purchase on all digital platforms, including Spotify, Apple Music, Tidal, and Amazon. 

Limited edition package deals including T-Shirts and 7-Inch Lathe Cut Records are exclusive to StrangeFamous.com, and include the full digital LP! 
-----------------------
SOME INFORMATION ABOUT LATHE CUT RECORDS:
How do these sound?
Lathe cuts will always have some degree of surface noise/pops/crackles, which tends to largely disappear once the music starts, especially for full, loud recordings. However, these lathe cuts are not audiophile records, or even comparable to standard pressed records. They will sound slightly different than the master, because the plastic reacts to certain frequencies differently. They are made from materials that were never intended to be records. Sound quality varies slightly from one record to the next, and some audio tracks translate better than others. There are many factors that determine the sound of the record; the material, the number of records that have been cut by the stylus, the climate, etc… But we drop-test them all and throw away any that are not up to standard. They are all totally listenable, but intended to be used more as playable art pieces. These lathes are not meant to be the way your track is regularly listened to. 
Are these as loud as a normal record?
Unfortunately, No. Our cutter heads are 70 years old and utilize a magnet that has, over the years, degraded a little. They were also made before the loudness war and were never intended to produce the kind of volume that modern stereo cutting heads made in the 70s and 80s were geared for. On top of that, the plastic that is used is harder than a lacquer that is used to master a pressed record, and the heads has to work much harder, resulting in less volume (about 75% that of a modern record). So, you will have to crank up your amplifier a few notches past where it usually sits.
Will these play on any turntable?
These records do not always play well on all turntables, especially cheap turntables without a weighted tonearm. However, they have all been play tested to make sure that they track on a properly weighted record player. Lighter tonearm weight and neutral anti-skating works best. Sometimes the needle will get caught in between the grooves and sound awful. You can usually gently nudge the needle sideways into the bottom of the groove, which should fix the problem. 
Inexpensive players with red cartridges/needles in particulars tend to have more problems than professional cartridges.
Will these records degrade or hurt my needle?
Absolutely not. These records are made out of hard polycarbonate plastic and will last as long as a pressed record. And your needle will not know the difference between this plastic or the PVC that pressed records are made of. The old adage that Lathe Cuts ruin your needle is a product of lacquer "dub plates" or "acetates". Lacquers are extremely soft, and with repeated plays, the lacquer would wear off and build up on your playback needle. We DO NOT use lacquers and DO NOT have this problem. We listen to lathe cuts 12 hours a day in the studio, and rarely change out our playback styli.