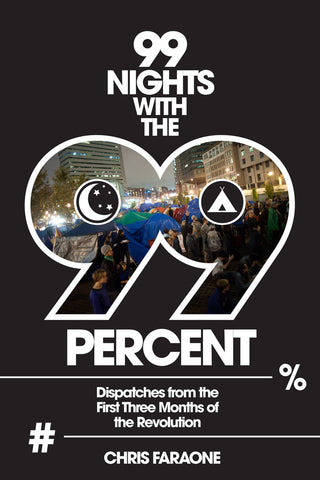 99 Nights With The 99 Percent by Chris Faraone
While supplies last, each copy will come signed by the author.!

"Real, raw, and oscillating between laugh-out-loud hilarious and gruesomely poetic, Chris Faraone's 99 Nights with the 99 Percent yanks you by the sleeve from your bed to the streets of Occupied cities up and down the East Coast and through the savage Wild Wild West Coast. He lifts you from your armchair and takes you into tents, grabs you from the back of the class and says: "Here's a view from the front lines." - BOSTON DIG

Occupy Wall Street was the most covered news story of 2011. Boston Phoenix Staff Writer Chris Faraone followed the movement like a storm chaser, investigating and analyzing the protest, while delivering weekly features. Starting in September, Faraone published a series of deep Occupy portraits, traveling to more than a dozen cities from Boston to Seattle. His work illustrates day-to-day Occupy operations, as well the characters who make the movement tick. In the process, he also landed nationwide exclusives, like a scoop on a federation of police officers who support Occupy.

Though Faraone is to the left of liberal, he wrote with a balanced reporter's eye, in many cases aggravating readers on both sides of the ideological aisle. Ignoring partisan preferences, Faraone dug for the root of topics ranging from an accused thief who moved between camps, to a veteran anarchist who was inspired by Occupy to come out from underground.