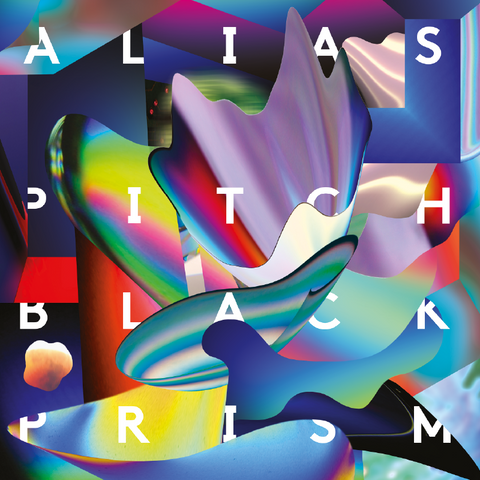 Alias - Pitch Black Prism CD
ALL PROCEEDS FROM THE SALE OF THIS PRODUCT GO TO THE FAMILY OF BRENDON "ALIAS" WHITNEY.

Pitch Black Prism is the last solo studio album by Alias. It was released on Anticon in 2014. The album was preceded by the free EP, Indigo.
"Fever Dream gave us a glimpse of his experimental potential three years ago, and he has followed further down the path of exploration with Pitch Black Prism." -Rebecca M. Williams, Exclaim!
1.
"Ghost Cloudz"
4:40
2.
"Crimson Across It"

(featuring Doseone)

2:40
3.
"Vermillion Coda"
0:41
4.
"Amber Revisions"
4:32
5.
"Gold Clouddead Skiez"
3:48
6.
"Joseph Greenleaf Mornings"
4:15
7.
"Pistachio Payoff"
1:33
8.
"Vallejo's Sapphire Views"
3:00
9.
"Indiiggo"

(featuring Therese Workman)

3:39
10.
"Amethyst Afternoon"
3:43
11.
"Pitch Black Prism"
3:36
12.
"Slackened Onyx"
0:41
13.
"Aikotune"
4:17

Every year requires winter records. Those sounds that you reach for when cyclical freeze triggers a craving for icy synthesizers and sinister drums. This is where you'll find Alias' Pitch Black Prism, an alternately bleak and beautiful album built for headphones and hailstorms. 

"The image that stuck in my head for its tone was a figure illuminated just beyond the range of complete darkness," says Alias. "I worked on it mostly it night, so it definitely has more of a nocturnal feel than any of my previous albums."

It's a fitting metaphor for the Maine resident. Few places boast such a severe climate, ominous forests and jagged coastlines. You can feel the climate and geography exerting brutal force to the contours of Pitch Black Prism. It's little wonder that Alias' closest stylistic peers are Burial, Boards of Canada, and Aphex Twin—all of whom hail from England, land of the cadaver-colored sky.

Take the eerie staccato stomp of "Amber Revisions," which conjures the image of a precious diamond buried under an avalanche. There's "Gold cLOUDEAD Skiez," which replicates the ghoulish light of a weak sun reflecting off an ice patch. There's "Vallejo's Sapphire Views," with its almost nostalgic lament for East Bay greenery sinking under the reality of continental divide and sub-Arctic weather.

Guest vocalists only appear on two of the sculptures chiseled by the Anticon co-founder. On "Indiiggo," Therese Workman's voice is chopped and pitch-shifted in ethereal fashion: the word "understanding" is looped over and over until you finally get it. While "Crimson Across It," brings a welcome reunion with Doseone, who sneers about "capitalist trash," while unleashing savage witch doctor incantations.

Pitch Black Prism is a stunning follow-up to 2011's Fever Dream, which Pitchfork called "very satisfying" and hailed for its "thick grooves" and "understated but staying melodies." 2008's Resurgam won similar raves, with the A.V. Club citing his "impeccable ear for rhythm" and "pretty crystalline sprawl."

The Portland, Maine resident's latest opus also reflects a new working approach.

"It's the first album that I've ever done using all software," Alias says. "I used a Native Instruments Machine instead of MPC because I was bored and wanted to switch it up and keep it interesting. At first, I felt like I had fucked up because I didn't know what I was doing and had to learn an entirely new process—but that was what made it fun."

This notion of fun isn't entirely submerged in the glacial sheets. There are also moments of extreme brightness and dazzling color. If you listen closely you'll notice this idea embodied in songs named after various jewels and esoteric shades. But the Pitch Black Prism is what predominates—the phenomenon of a pinpoint of light beaming at the end of a tunnel; the sort of thing that you'll want to pay attention to, in order to survive. 
released June 24, 2014