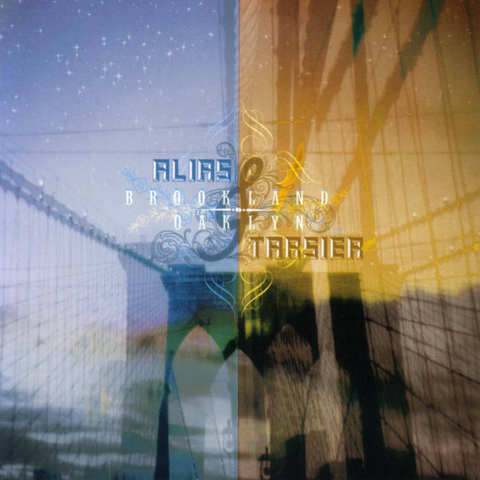 Alias & Tarsier - Brookland/Oaklyn VINYL LP
ALL PROCEEDS FROM THE SALE OF THIS PRODUCT GO TO THE FAMILY OF BRENDON "ALIAS" WHITNEY.

Brookland/Oaklyn is the debut, bicoastal collaboration between the production/beatmaking of anticon's Alias and the voice and inspiration of Rona "Tarsier" Rapadas of New York's cinematronic duo, Healamonster & Tarsier. The project began with one fluke email and remained faceless for 21 months as they recorded their respective musical roles (without first meeting or even knowing the other).
"Here Alias returns to the hard drums and boom-bap-infused atmospheres which tinted Muted; Tarsier walks a beautiful line somewhere between Bjork and Beth Gibbons." - Anticon.com
| | | |
| --- | --- | --- |
| 1. | "Cub" | 4:21 |
| 2. | "Rising Sun" | 4:40 |
| 3. | "Last Nail" | 4:54 |
| 4. | "Dr. C" | 4:33 |
| 5. | "Anon" | 5:07 |
| 6. | "5 Year Eve" | 4:41 |
| 7. | "Plane That Draws a White Line" | 3:59 |
| 8. | "Luck and Fear" | 4:23 |
| 9. | "Picking the Same Lock" | 5:54 |
| 10. | "Ligaya" | 5:27 |