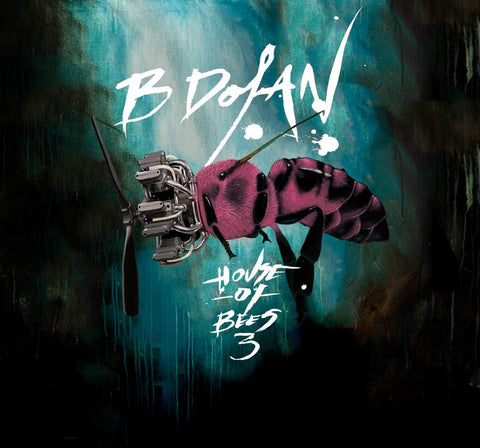 B. Dolan - House Of Bees Vol. 3 CD
Every CD order of HOUSE OF BEES 3 includes the mastered, 54 minute mixtape in an embossed CD wallet by ZeroFriends illustrator Robert Bowen!
 The highly anticipated return of B. DOLAN and BUDDY PEACE is upon us, as the duo release the final installment of their HOUSE OF BEES mixtape series. Volume 3 has some big shoes to fill--last time out they birthed the hashtag #FilmThePolice and brought us bangers like "King Bee" and "Which Side Are You On?"--but they've enlisted an eclectic mix of guest vocalists, comedians, spoken word poets and emcees to help bring the series to it's dramatic, head-nodding conclusion... All of this to clear the way and build hype for the 2015 release of "Kill the Wolf", the 4-years-in-the-making follow-up to Dolan's "Fallen House, Sunken City".
HOUSE OF BEES 3 is now available in digital, CD, and cassette formats here.
 Tracklisting: 
Caretaker ft. Dan Le Sac

Natural Born Trouble ft. Neil Hamburger

Hon3y from a B33

The Devil is Alive

Radio Stockholm Freestyle
Soldier Boy ft. Scroobius Pip (You Better Run RMX)
Seat at the Table ft. Worldwide
Madge Tries to Record a Drop
State Trooper ft. WarrenPeace
The History of Atlantis
You Can't Win ft. Sage Francis (Epic B-Boy RMX)
Coda
The Devil & Jack McCarthy
King Bee (Live in Liverpool)