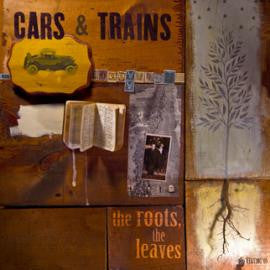 Cars & Trains - The Roots, The Leaves CD
The Roots, The Leaves is the sophomore effort of Portland, Oregon based multi-instrumentalist cars & trains (Tom Filepp), a more personal and emotive foray than his 2007 full length debut Rusty String. Tom deftly mixes out-of-the-box electronics and found sounds seamlessly with a myriad of instruments, woodwinds, banjos, acoustic guitars, strings and glockenspiel walking a blurry line that makes one wonder where exactly the uncommonly organic drum programming ends and the instruments and lushly layered found sounds begin.
On his first Fake Four Inc. release, Tom does what he shines at, as in previous efforts, vividly creating microscopic ship-in-a-bottle worlds with circular themes that one can imagine crawling into, like a favorite childhood hiding place, while brooding nostalgically on a favorite time or place long since past. His distinctive and thickly layered vocals sit atop soft but steadily pulsing guitars, malfunctioning toys, twangy banjos, crooning woodwinds and dirge-like trumpets, weaving a nimbly produced record that tells a succinct and engaging story.
Lyrically, The Roots is much more vested in storytelling, painting vivid pictures of moss-laden decaying buildings, rusty railroad tracks, and dusty urban settings, all tinged with hints of nature and melancoly. Drawing on inspiration both from his adopted hometown of Portland and from his native Hudson Valley in New York, Tom builds on reoccuring themes that make the listener feel like they are part of something special and intimate. The ten tracks are more staked in a carefully hewn songwriting sensibility, while focusing to a greater extent on Tom's singing and lush vocal harmonies than before.
Many guest artists contribute vocals and a diverse array of instruments to The Roots, The Leaves, including a handful of fellow labelmates on Fake Four Inc. (like Ceschi Ramos, Alexander Chen of Boy In Static), in addition to some Portland, Oregon locals. Carrying on the mantle of previous releases laden with toy instruments, distorted tape samples and banjos, The Roots sits at a curious intersection between more folk-oriented electronic groups like Tunng and the distinctive Pacific Northwest experimental folk sound of K Records/The Microphones/Mt. Eerie renown.
The Roots, The Leaves is cars & train's most realized and expressive effort to date, full of energy and intimacy gleaned from Filepp's intense, energetic, and intricate live looping show that he has steadily developed and gained notoriety for. From the intricate plucking of The Root's cyclical opening and closing songs, and everything in between, cars & trains carefully journeys hand in hand with his influences, cajoling them into a world all his own.

Tracklisting
#1 i know someone who cant recognize
#2 asleep on a train
#3 the birds in your chest
#4 the roots
#5 intimidated by silence
#6 the sun always sets
#7 drop ceilings and day planners
#8 the leaves
#9 some lonesome street corner (feat. ceschi)
#10 dead telephone