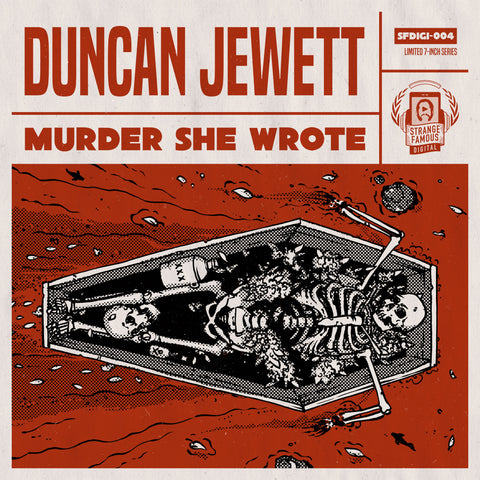 Duncan Jewett - Murder She Wrote Limited 7-Inch Record+MP3
SOLD OUT! 
ORDERS FOR THIS PRODUCT PAGE WILL RECEIVE:


1x 320kbps MP3 DL of the full "Blood Red" LP
    - delivered to your inbox upon completion of checkout
1x "MURDER SHE WROTE" 7-Inch Lathe Cut Record
    - LIMITED TO 30 NUMBERED COPIES!
1x SFR Sticker
———————————
Duncan Jewett's "Blood Red", a compelling collison of folk, pop, hip hop, and alternative music, is the end result of a decade-long collaborative effort that aims to elucidate what it means to be human in our increasingly fractured digital age. As a young teenager, from the isolation of his Durango mountain town, Jewett began writing, singing, and home recording; eventually using online music forums to connect with a world of like-minded artists. In the early 2010's a handful of skeleton tracks were presented to Strange Famous Records' honcho Sage Francis, who then paired Jewett up with producer James Hancock as finishing touches were applied to what would become a fully fleshed-out project.

Check out "MURDER SHE WROTE", the first single from "Blood Red"!
"I loved the tone of his music and the unique singing style, but as it's not rap-heavy I wasn't really sure how it would fit on our label," admits Francis. "He also seemed more of a reclusive type rather than someone who we could expect to tour and do the industry dance. Yet, I found myself returning to his songs. Often. After hearing Hancock's contributions to the beats and production, I was convinced I wanted to do something official with this project. In fact, this is what originally inspired us to create SFdigi, the digital subsidiary of Strange Famous Records."
"Blood Red" runs the stylistic gamut from hip-hop to folk to club-pop, featuring additional contributions by Brandon Logic and Broom E. Stylus. The lyrical content provides a direct reflection on love, loss, and mortality while embracing the internet paradox: We have never been more connected, nor more alone. Over the course of "Blood Red"'s completion, Jewett moved from Colorado to Santa Fe, NM, got married, adopted 2.5 cats, and watched as the internet increasingly became an arm of the surveillance state as our private thoughts got mined and sold to advertisers.
As the shadow government undoubtedly already knows, "Blood Red" drops March 10, 2017 on SFdigi.

TRACKLISTING
01 Murder She Wrote
02 Flesh And Bone
03 Destination Dinosaur
04 Ghost Girl
05 I Remember
06 Better Off Dead
07 ESC
08 Sinner International
09 Infancy Dependency
10 Forever Breathe
11 Figure Eight 
Destination Dinosaur and I Remember produced by Brandon Logic
Infancy Dependency produced by Broomy Stylus
ESC Co-Produced by Rodrigo Zapata and James Hancock
Sinner International produced by James Hancock
All other tracks co-produced by Duncan Jewett and James Hancock
___________________________________________________

The obvious question, outside of "who the heck are you?" or "what the heck is Strange Famous?" (if you haven't been following indie hip-hop for the past couple decades,) is "who the holy heck is Duncan Jewett?!" 
Fuck if I know. I mean, I've met him recently and we've maintained sporadic email correspondence for several years, but his "Blood Red" album came about due to the fact that I stumbled across a song of his in 2010 and I really liked it. At that time I decided to help him develop a full length album by hooking him up with a producer I like named James Hancock. Fact of the matter is, Duncan Jewett is the reason why the concept of my #SFdigi subsidiary label came about in the first place. I was intrigued by his music, but it didn't seem like he was trying to make a career of it. Since he wasn't putting himself "out there" and publicly pimping all the potential angles of promotion, there was no sense in releasing his material the old fashioned way. Not unless we wanted to quickly go belly-up as a result of costly middlemen who might only be beneficial to industry-developed pop acts at this point. On top of that, this isn't even a hip-hop album per se, so it's not like I know how to properly push and/or promote such a thing. Yet, he was down to let us release of his album. So….yeah, that's what we're doing. And I'm pretty excited about it. Not that I believe he's fully comfortable with putting himself out there like this just yet, but I dig his music a lot and I'm hoping there are others out there who feel the same way.
Annnnnd this is the part where I say some more potentially offensive things that Mr. Jewett might not be totally cool with, but I hope he understands that it's with the utmost respect and best intentions:
As versatile and talented as he's proven to be as a writer and recording artist, I've been given the impression that Duncan has never played an official live show. When I recently performed in Santa Fe, where he currently resides with his wife, I asked him if he wanted to open up the show. He never responded to that email. They attended the show and we exchanged hugs, but there was never an expressed interest in taking to the stage. When I asked if he could send us some press photos, several months passed without a response. Eventually he sent a selfie that was backlit. His social media following is dismal, and he seems reluctant to create an artist page on Facebook (which I offered to set up for him and help maintain,) but you know what? This dude smiles. This dude sings. This instrument-playing mustachio is married and lives life and makes music and there's something special about him. I continually get the feeling that he's reluctantly adhering to the game that needs to be played per my request, but a part of me wonders if he's not doing it exactly how it should be done without my interference. 
-Sage Francis (Strange Famous CEO, President, and Client)
___________________________________________________