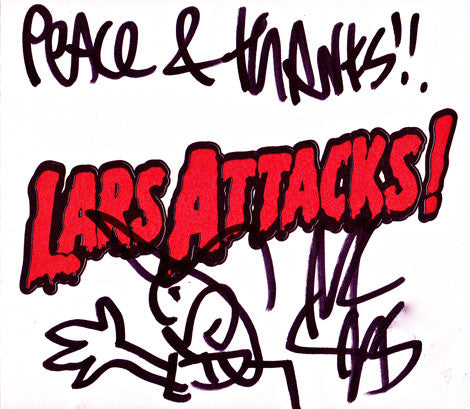 MC Lars - Lars Attacks! SIGNED CD
SFRstore exclusive! CDs will come SIGNED by MC Lars, and include a full-color lyric booklet!

The latest from nerdcore rapper MC Lars features appearances from Sage Francis, KRS-One, Mac Lethal, and more! 

""Let's make one thing clear - if you're expecting another 'This Gigantic Robot Kills' with it's bouncy, happy-go-lucky songs look elsewhere. MC Lars' latest release, 'Lars Attacks!', has a distinctly heavier, darker and more serious feel to it. 

The record is still littered with the occasional lighthearted track, like 'Mike Russo Cut Your Hair' and the impossibly cute stand out track, 'Summer Camp Love'. After all, it's these kind of songs that contribute to MC Lars' signature sound. 

...There's some songs that absolutely cannot be overlooked - take 'Judas Priest' for example - which explores the Gospel of Judas, from the perspective of Jesus' disciple Judas Iscariot is thought-provoking, gripping, yet terrifying. 

With 'Lars Attacks!', MC Lars has abandoned any prior frivolity and introduced weighty themes. In turn MC Lars has set himself on a much more solid career path. Dropping guests like KRS-One and Sage Francis only proves that MC Lars is on top of his game right now." - Alert The Press.com

Tracklisting:

01 "Going Back to Brooklyn"
02 "The Gospel of Hip-Hop" (featuring KRS-One)
03 "Lars Attacks!"
04 "Historys Greatest Assholes"
05 "Summer Camp Love (Is So in Tents)"
06 "Venomous Box Jellyfish"
07 "Judas Priest"
08 "How to Be an Indie Rapper" (featuring Weerd Science)
09 "Mike Russo Cut Your Hair"
10 "Francis Bacon Slashed the Canvas" (featuring John Reuben)
11 "Super Scope"
12 "Art of Darkness" (featuring Sage Francis)
13 "Make a Friend on 27th Street"
14 "The Giving Tree" (featuring Mac Lethal)
15 "Annabel Lee R.I.P."