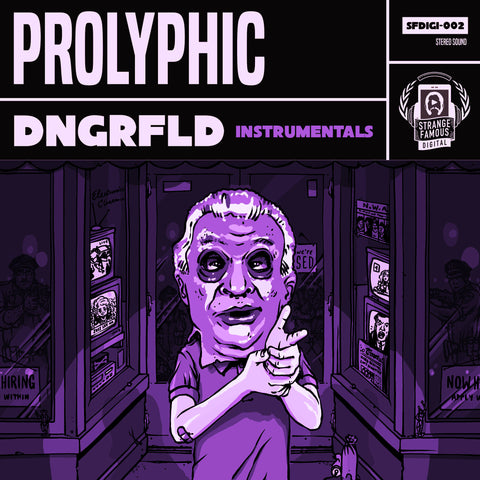 Prolyphic - DNGRFLD Instrumentals MP3 Download
ORDERS FOR THIS PRODUCT PAGE WILL RECEIVE:

1x 320kbps MP3 DL of the full "DNGRFLD" *INSTRUMENTAL* LP
-------------------------------------------------------------------
Underground rap veteran PROLYPHIC returns with "DNGRFLD", his first self-produced album in 10 years, dropping on Strange Famous Records' SFdigi imprint on November 4, 2016!

"This album is not about Rodney Dangerfield, and it's not about 'getting no respect', says emcee/producer Prolyphic. "It's about the reinvention of myself as an artist." 

LISTEN TO THE FIRST SINGLE, "RDNY"!


The world famous comedian known to millions as Rodney Dangerfield began as a man named Jack Roy. The transformation of Roy's career that occurred after changing his name intrigued Prolyphic, and led him to call the album 'DNGRFLD". 
"Stand-up comedy has probably had just as much influence on me as hip-hop. There was a similarity there: late night comedy shows, late night hip-hop sessions. One person behind a microphone relating the way they saw the world, fuck what anyone else said. It was the beginning of me going from who I'd been told I was to becoming an artist, to becoming Prolyphic," he recalls. "As I learned about Rodney Dangerfield, I started to see similarities in his career path with the path of my music career, and how simple changes in perception can open doors you never thought you'd walk through."

The album maintains a heavily reflective tone, with the emcee spilling details of his earliest years as a burgeoning artist: "I miss that shit. The experience of hip hop isn't like that anymore - the rawness has been censored, filtered, castrated. I want people to hear this album and feel a feeling that isn't easy to find anymore."

Check out the lyric video for "Third Gunman"!
Prolyphic's self-described reinvention as an artist is best evidenced in the beats he decided to rap over: after working with other beatmakers on his last 2 records, all but one of the tracks on "DNGRFLD" are self-produced. 

"I still love working with other producers - I learned so much from Buddy Peace and Reanimator (on his previous albums "Working Man" & "The Ugly Truth", respectively). They're great at what they do, and their talent is underappreciated in the music industry. But I also love producing my own beats, because it gives you total control of the feel of the song. After I produced "Vonnegut Busy" for Sage Francis (on his 2014 LP "Copper Gone"), I kind of went on a rampage of making beats, and I felt it was time to bring that element back when making my own album. The project became even more personal, because as the producer you decide where you want to take the listener sonically and lyrically.


In terms of rhymes, there wasn't so much a reinvention as a revitalization and reinforcement of his passion: "I love this shit. Fuck whoever wants to question me, or deny me passage. I've earned my spot, and it's my turn to talk."

The first single, "RDNY", touches upon another infamous Rodney, with the Rodney King incident of the Los Angeles riots of the early 1990s acting as a backdrop for the developing worldview of a young Prolyphic. Through this filter, Pro questions the true nature of the dangers permeating society in a media-driven age. More personal topics are tackled on songs like "A Bottled Message", which expresses the persistent uncertainty of articulating your feelings and wondering if they're every really heard. "By A Dying Art's Bedside" examines the psyche of a rapper who fears that he won't be there when his time finally arrives: "The hardest working man's project is perfection, but it wasn't til death that he could sell records."
On the lighter side, Prolyphic is joined by his Strange Famous labelmates
Cas One
(on "Ice Cream Tacos", a breezy, nostalgic trip down memory lane) and
Seez Mics
(on "Rehab Killed The Rockstar", a playful assessment of the crumbling state of rock n' roll in the decades since long hair and guitars ruled the world). 
After the dusty drum breaks and intricate narratives that tell the tale of "DNGRFLD" fade from the ear, what is most important thing that Prolyphic wants the listener to take away from the record? "It's simple: I'm still here. And I'm not going away anytime soon."

TRACKLISTING:
01 RDNY
02 Pale Blue Spot
03 By A Dying Art's Bedside
04 No More Questions
05 A Bottled Message
06 One Vs Many
07 Third Gunman
08 A Moment To CTFO
09 Ice Cream Tacos feat. Cas One
10 Love In The Time of Melancholia 
11 Rehab Killed The Rockstar feat. Seez Mics | produced by M.Stine 
12 Stage Left