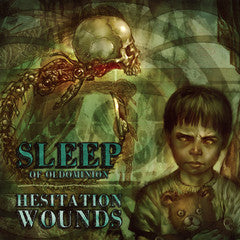 Sleep - Hesitation Wounds MP3 Download
"This is an infinite love in its purest form. It's not the norm but it's all I know so here it goes.
This speaking from the heart tore my life apart to bleed for ya, I just thought you should know. - Sleep of Oldominion from "Talk About It"
Hesitation Wounds is a vivid and intense journey through the psyche of one of underground hip hop's longest tenured and most promising emcees.The follow-up to Sleeps acclaimed 2005 LP Christopher, the album features guest appearances by Del tha Funky Homosapien, Grayskul, and boasts the production credits of Reanimator, Zebulon Dak and Smoke. Constructed from a mix of samples, live instrumentation, and a myriad of styles that all assist in the storytelling of a lifelong hip-hop veteran who has much more to offer the game than brag raps. This is real life in all its complexities, compressed into 13 solid tracks, and delivered in a way that only Sleep could do.
Tracklist:
01 Intro (produced by Pale Soul.)
02 Day Dreamer (produced by Zavala, scratches by DJ Z-One).
03 Talk About It (produced by Reanimator.)
04 Who to Point the Finger At (produced by Reanimator.
05 Ginelli (produced by Samix, scratches DJ Z-One).
06 Spent (produced by Zavala, scratches by DJ Z-One.)
07 Orchestra of Strangers (produced by Leon West, featuring Toni Hill.)
08 Hesitation Wounds (produced by Zavala, featuring Grayskul.)
09 Commercial (produced by Pale Soul.)
10 Lothar (produced by Zavala, featuring Del Tha Funkee Homosapien.)
11Â  Get It (produced by Smoke, scratches by DJ Z-One.)
12 So Far Away (produced by Samix, scratches by DJ Z-One)
13 Roll Call (produced by Zavala.) 
SPENT - Sleep of Oldominion by Strange Famous Records
Hesitation Wounds rated 4.5 Stars out of 5 from URB Magazine! 
"4.5 out of 5" Urb.com 
Whether it be the title of the album, or the child on the front cover who looks like he's trying out for Haley Joel Osment's role in The Sixth Sense, it's tough to head into this album thinking you're about have a grand ole time. You'd be kind of right. It's not exactly solid BBQ background tunes or a boombox-at-the-beach type of banger. But the creepy, perhaps terrifying and suicidal vibes the title and cover art display are not as rampant throughout the LP as you might imagine. 
Instead, the hesitation wounds theme is more relevant to the way Sleep examines his own life: past and present, trials and tribulations, dreams and regrets. What's most notable, and, to be honest, kind of surprising (or maybe I was just sleeping, lame pun not intended) is how great of an MC Sleep has evolved into. Not that he hasn't put out quality albums in the past, but on Hesitation Wounds, he manages to express himself, putting his deepest and most beautiful emotions inside the music, while still occasionally flinging humor and wit into the material as well. And, incredibly, the fact that all this takes place while Sleep raps with a double-time flow that whizzes by you, yet somehow maintains both comprehensibility and perfect sense, is downright impressive. His raps are dense, yet often are about no more than being an everyday person with everyday struggles: simple-but-significant pressures like making money to support his family or hating the time spent away from his daughter. It's pretty much impossible to listen to this entire CD and not indentify with the message and the emotions, even if you can't dig the music. 
But the music is damn good. The production suits the MC well, and, like the rapper it's providing the background for, it's a little experimental while still traditional in its Hip Hop format. The two best beats come from Reanimator, one of which, 'Talk About It' begins with a Beastie Boys-inspired old-school styled head nodder that transitions into a futuristic electro-canvas for Sleep to scrutinize the music industry over. 'Orchestra of Strangers' uses infectious strings and a catchy hook to draw the listener in, as Sleep slows down the flow to a slow jog in the second verse and then moves to a full-out sprint in the third. Blink, and you'll miss an important point: Complex content, not nonsense because I spit it a bit quicker than some kids. And when he says 'this is grown-folk business, just spit a little different' earlier on the track, it's as if he feels the need to defend his slightly out-of-the-box style. Truthfully, though, he doesn't. Hesitation Wounds takes you through the journey of a regular dude just expressing himself through his music for 13 (12 not including the hilarious interlude) emotional, relatable tracks. There's no reason to have to defend that. 
-by Adam Figman  
|   |   |
| --- | --- |
|   | 1 - Intro |
|   | 2 - Day Dreamer |
|   | 3 - Talk About It |
|   | 4 - Who To Point The Finger At |
|   | 5 - Ginelli |
|   | 6 - Spent |
|   | 7 - Orchestra of Strangers |
|   | 8 - Hesitation Wounds feat. Grayskul |
|   | 9 - Commercial |
|   | 10 - Lothar feat. Del Tha Funkee Homosapien |
|   | 11 - Get It |
|   | 12 - So Far |
|   | 13 - Roll Call |