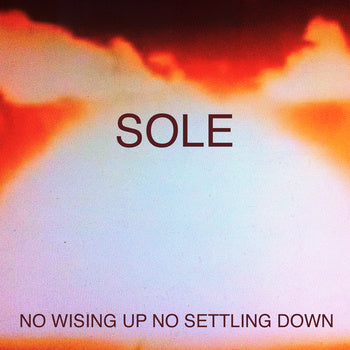 Sole - No Wising Up No Settling Down CD
N.W.U.N.S.D. features contributions from Goldpanda, Hood Internet, Dj Pain 1, Sean Bonette of Andrew Jackson Jihad, Dosh, Ceschi Ramos, Man Mantis, Skyrider, Loden, Cars & Trains, Snubluck, Robin Walker, Decomposure and Spencertron. In the wake of the Occupy movement but a world that is ever-collapsing sole takes a step back and focuses on the macro-social, reminding us that it is individuals and their actions that shape the world.
No Wising Up, No Settling Down, is the second installment in the Ruthless Criticism Of Everything Existing series. N.W.U.N.S.D. focuses more on the personal and social/philosophical aspects of the class struggle and abandons the more overtly political song writing for a more subtle, honest, experimental and poetic approach. Although this album contains pop elements seen in the past few sole releases, this album also harkens back to classic sole stream of consciousness poetry and noise styles.