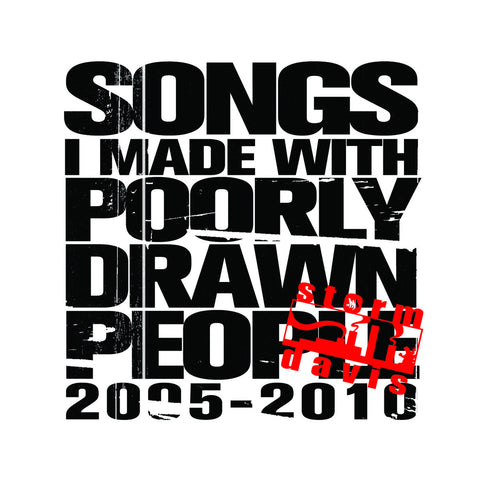 Storm Davis - Songs I Made With Poorly Drawn People SIGNED CD
Strange Famous Records label manager Storm Davis presents a compilation of 22 tracks recorded during his time with critically-acclaimed Providence, RI hip hop collective Poorly Drawn People!

Orders for this product page will include:
1x Storm Davis "Songs I Made with Poorly Drawn People" SIGNED CD
1x Storm Davis 4x4 Vinyl Sticker

"Academic anthems soaked in visceral vocabulary from the adolescence of Indie Rap." - URB Magazine

The PDP crew were named 'Best Hip Hop Act' in the Ocean State 4 years in a row by the Providence Phoenix newspaper, performed hundreds of shows to enthusiastic audiences, stockpiled enough questionable antics to fill a coffee-table book, and generally had a stranglehold on the northeast deep-underground rap scene in the first decade of the new millennium. Then, without warning, they disappeared.

"Songs I Made With Poorly Drawn People" features appearances by SFR's Prolyphic, as well as Esh The Monolith and Dox Ellis.
TRACKLISTING:
01 Fortune Favors The Bold feat. Prolyphic
02 Illest It Gets? (ReDox) feat. Symmetry
03 The Fight
04 Better Off Dead feat. Reason
05 I Need You feat. Jon Hope
06 A Quarter Milli
07 Sawbucks & Fins feat. Dox Ellis, Esh The Monolth, Reason
08 Each One Teach One
09 Never Be Forgotten feat. Reason & RADIx
10 Close To Me
11 Out-Of-Order Border Patrol feat. Cas Uno, Esh The Monolith, Reason, Dox Ellis, DJ Al Bums
12 Storm Davis Fucks Like A Puma
13 Elmer's Lament feat. Reason, Esh The Monolith, Cas Uno, Dox Ellis
14 Run Boy feat. Prolyphic
15 No Interruptions feat. Dox Ellis, Reason
16 Fatbackburners feat. Ams Uno, Prolyphic
17 Keep It Ova There feat. Reason
18 Motion Not Emotion feat. Reason
19 Spartan (ReDox)
20 Bethany
21 Bring That Beat Back
22 Fool feat. Reason