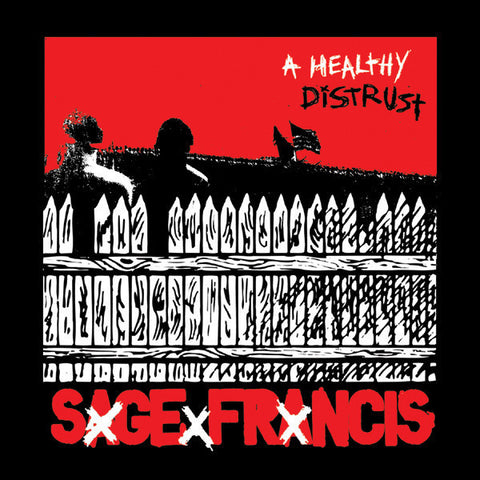 Sage Francis - A Healthy Distrust SIGNED CD
Sage's first album on Epitaph Records, released in 2005. Features 24 page booklet with artwork and lyrics for every song.
Orders for this product page will come SIGNED by Sage Francis!
CDs are signed in advance & are not able to be personalized. 
-------------------------------------------------------------
"We're in the hands of a master lyricist...A distinctive raw talent is emerging" - URB Magazine
Francis is one of the most controversial, gifted, and innovative MCs today. For nearly a decade, his relentless DIY approach--equal parts eloquent poet and vicious MC--brings a style that smashes genre boundaries. His music is rooted in classic hip-hop, but he comes across like an amalgam of Dylan, Lou Reed, Chuck D, and George Carlin. Introspective but aggressive, politically incisive but funny as hell, "A Healthy Distrust" is Sage's first Epitaph release. Eclectic and complex. Features collaborations with Will Oldham, Danger Mouse, and Alias.
Tracklist:
01 The Buzz Kill
02 Sea Lion
03 Gunz Yo
04 Escape Artist
05 Product Placement
06 Voice Mail Bomb Threat
07 Dance Monkey
08 Sun Vs Moon
09 Agony In Her Body
10 Crumble
11 Ground Control
12 Lie Detector Test
13 Bridle
14 Slow Down Gandhi
15 Jah Didn't Kill Johnny