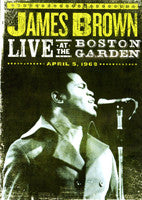 James Brown - Live At The Boston Garden 1968 DVD
A legendary concert from the Godfather Of Soul -- James Brown's
monumental performance in Boston on the day after the shooting of
Martin Luther King -- credited with holding back riots in the city! The
DVD presents the full classic concert in its entirety -- along with
additional audio from the simulcast at points when there was no image
-- making for the complete picture of this historic musical moment,
easily one of the hippest soul concerts of the 60s. The performance is
introduced by the mayor of Boston -- who was on stage for the event --
and titles include "That's Life", "Try Me", "I Got The Feelin", "Please
Please Please", "Maybe The Last Time", "Cold Sweat/Ride The Pony", "I
Can't Stand Myself", "There Was A Time", and "Get It Together".