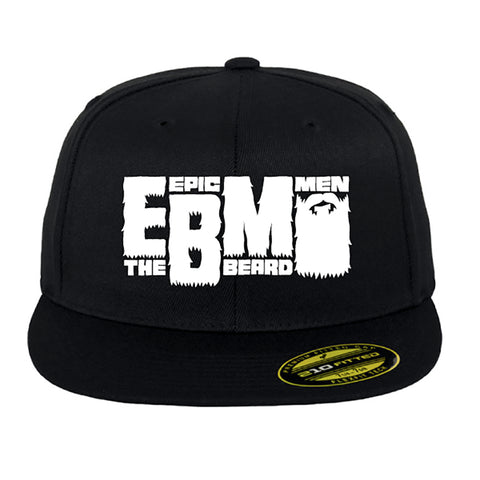 Epic Beard Men FLEXFIT Hat
EPIC BEARD MEN (Sage Francis + B. Dolan) gear is here!

Because you demanded it: the first Epic Beard Men (Sage Francis + B. Dolan) cap available in FlexFit sizes!

This cap features:
White EPIC BEARD MEN Logo embroidered on Black Flex Fitted Cap
White "EBM X" Logo screenprinted on underbrim 
Sizes:  S/M (6 7/8-7 1/4) - L/XL (7 1/4-7 5/8)
Key Features:
83% acrylic/15% wool/2% spandex 
hard buckram backing 
structured 
high-profile 
6-panel 
flat Permacurv® visor
After a decade of sharing stages and crafting collaborations in the studio, real-life rap BFFs SAGE FRANCIS and B. DOLAN have finally caved to years of fan pressure to form an official group: EPIC BEARD MEN. The super-duo embraced the absurd name as a reminder to themselves that, while they tackle a lot of difficult subject matter in their solo work, this group's mission boils down to one thing: "This is supposed to be fun, for fuck's sake."

Check out the video for "D.I.Y.M.F.S."! 


Arriving with a playable, Streets of Rage-style web game to accompany it's 16-bit funk and lyrical savagery, "FIVE HEARTS" is the lead single from "Season 1". The first offering of the year from EBM finds Sage and B over infectious production from Le Parasite, killing it in 2-player mode while reminiscing on a childhood wasted playing 'goddamn video games' and an adulthood with too few magical lakes. By the time the track shifts into full chiptune mode and bags another castle, the newly-minted duo have changed the high score. FILL HER UP!

Check out a preview of the EBM video game, scored with "FIVE HEARTS", the first leak from the "Season 1" EP!


Strange Famous Records released their "WAR ON CHRISTMAS" single for free last December as a teaser of what the team has in store for the new year, and made it crystal clear that these two are not just here to discuss personal grooming; The EPIC BEARD MEN are gunning for a spot among your favorite partnerships in music. The stockpile of songs they've been meticulously obsessing over for last 2+ years feature Francis and Dolan tackling a vast array of concepts and trading off some of the most sardonic, punchy, and fun lyrics you're likely to hear in 2018.

"Dumb Ass Kids" is the first official video from Season 1!
The "SEASON 1" EP is stacked with a signature blend of dusty breaks and absurdist lyrics, infectious grooves and slapping snares, plus the effortless rapport of two of indie rap's best passing the baton back and forth with the only other emcee capable of running this rap race at such a breakneck pace. EBM's full-length debut album is slated to drop in October. In the interim, fans can expect videos, remixes, social media meltdowns, and lots...'o...touring (all upcoming tour dates can be found here). 

Keep up with the adventures of the Epic Beard Men at: 
www.EpicBeardMen.com
www.Twitter.com/EpicBeardMen
www.Facebook.com/EpicBeardMen
www.Instagram.com/EpicBeardMen

Check out all things EBM at SFRstore here. 
////// TRACKLISTING

01 Five Hearts
Beat by Le Parasite
Additional Synth Programming by Adam Schneider
Outtro Chiptune by Adam Schneider
Additional vocal by Kalyn Heffernan of Wheelchair Sports Camp

02 Shotgun Golf
Beat by Cecil Otter
03 Two Different Worlds
Beat by Swab
Mixed by DS3K
Scratches by Swab
04 Not Ur Uber
Beat by Sage Francis
Scratches by Swab and DJ Pain 1
05 DIYMFS
Beat by Swab
Scratches by Swab
06 Fresh to Death (feat. Dope KNife)
Beat by Alias
07 Space Ghettos
Beat by Reanimator
Scratches by Mr. Dibbs
08 Dumb Ass Kids
Beat by B. Dolan
Beat tracked and mixed by DS3K
Additional synth programming by Adam Schneider
Scratches by Swab
////// BONUS TRACKS:
09 War On Christmas
Beat by B. Dolan.
Additional synth programming, mixing and mastering by DS3k
Additional synth and guitars by Adam Schneider
Intro vocal by Kathleen Stubelek
10 House of Bees
Beat by Buck 65
Originally released in 2009 on Sage Francis' "Sick of Wasting" mixtape

11 2Bad
Beat and scratches by Buddy Peace
Originally released in 2012 on B. Dolan's "House of Bees, Vol 2" mixtape

12 You Can't Win
Beat by Buddy Peace
Mixed by DS3k
Originally released in 2013 on Sage Francis' "Sick to D(eat)h" mixtape
Except where noted, vocals and writing for all songs by Sage Francis for Sage Francis Publishing (ASCAP) and B. Dolan for Bear Heart & The Spare Parts (ASCAP.)
All songs mixed by Alias and mastered by Daddy Kev.
Cover art by Chris. B. Murray. Layout by Storm Davis.

Sage Francis and B. Dolan would like to send love to the following beardos:

Everyone listed in the sound credits of this EP...infinite appreciation! The whole Strange Famous massive. Our family and friends who continue to tolerate our relentless pursuit of childhood dreams. Storm Davis, Pat Jensen, Danny Brown, Hugo Lopez, Peter Agoston, Gumshoe Films, Kyle Eustice, Cory Santilli, Jay Brown, Johnny Sevigne, A. D. Zyne, Stephen Mitchell, Samuel Gehrke, Superhero-Studios, Allan McKernan, Buck 65, Barry and Helen Crimmins, Daniel Madison, Inkymole, Jamie Elder, RSE, Scroobius Pip & Speech Development Records, Doomtree, ClassSick Custom, Matt Rego, Kathleen Stubelek, and Pistol Dave. Apologies to the hundreds of people we're surely forgetting. Thanks for nothing I guess!
STRANGE FAMOUS 'TIL THE GRAVE SHAVES US