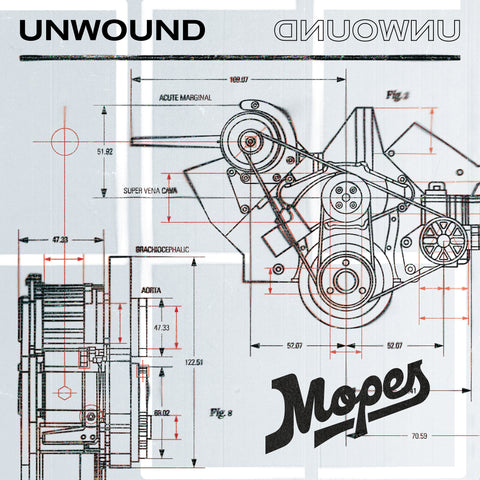 Mopes - Unwound MP3 Download
Orders for this product page will receive:
1x Mopes "Unwound" album 320kbps MP3 Download
- includes the full 12-song LP!
- link to download a .zip file of the mp3s will be delivered to your inbox  after completion of checkout
- MP3s must be downloaded on a computer, not a mobile device
----------

Re-introducing… MOPES! 
Back again for the second time, the artist formerly known as PROLYPHIC continues to build his new name and flexes a veteran perspective on UNWOUND, a new self-produced LP that reveals more about the man of multiple monikers than any project before it. 
"The last 5 years for me have been an unwinding of who I was as a person, who I am as a person, what I've been through and where I'm going," explains Mopes. "You can't jump the process, and the process for me was therapy, self-reflection, and self-analysis." The results of this time-well-spent can be felt on tracks like "Life's A Short Term Memory" (the first video) and the first single "One That Got Away," which take a frank, measured, and unflinching look into the world around and the world inside of Mopes. The journey continues on "Home Is Like A Tough Leather Jacket," which revisits his Rhode Island origins and the winding road that led to where he is today.
"When a spool of thread has issues, it kinks and spins out of control, but keeps spinning until it breaks down. That's a perfect analogy for who I'd become. For me to get back to zero and get to the root of my issues, I needed to go through the necessary task of unwinding all of that thread. I had to slowly unravel the layers to get to the core. The writing, and the title 'Unwound,' reflect that work," says Mopes. The process is also represented visually in the cover artwork of Lamadomus, who designed Mopes' self-titled debut EP in 2021.
Like that EP, "Unwound" features a classic Strange Famous posse cut - this time it's "Introvert Party." SFR emcees Jesse The Tree and Runt (of Jivin' Scientists) and vocalist Lynzi Stringer (last heard on ALXNDRBRWN's "Glow Kid" project) join Mopes to mild out in the separate-together manner the title promises. Additionally, Mopes enlisted StrangeFam stalwarts Buddy Peace on cuts, Alan Hague (Prayers For Atheists) on guitar, and Joshua Trinidad (Wheelchair Sports Camp) on trumpet, turning the project into a family affair, and helping to ensure that the introspective tone of the proceedings doesn't weigh too heavily on the listener. The trio sprinkled their expert flourishes throughout a dozen molten slabs of grit-and-dust that make up the classic beats we've come to expect from Mopes. 
"Unwound" is a perfect place for the uninitiated and the just-getting-reacquainted alike to get on board for the burgeoning Mopes renaissance - the multi-hyphenate has no less than a half-dozen projects in the works as either an emcee or producer (or both), some of which will surface in the year ahead, and all of which deliver his signature Strange Famous flavor like no other. 
Mopes "Unwound" drops February 18, 2022 everywhere you listen to music, and is available to pre-order now at StrangeFamous.com and on Bandcamp. 
Limited edition "UNWOUND" package deals including 7-Inch Lathe Cut Records, Cassettes, and T-Shirts are exclusive to StrangeFamous.com, and include digital downloads of the full digital LP! 

----------
TRACKLIST

Life's A Short Term Memory

Ooh How They

The Gives, The Takes

Prey With Tied Hands f/ Lynzi Stringer

Home Is Like A Tough Leather Jacket

Made In Brockton

Introvert Party f/ Jesse the Tree, Runt, Lynzi Stringer

One That Got Away

About Last Night

Grand Theft Auto Pilot f/ Lynzi Stringer

Sour With Sweet

A Parting Gift
All songs written, performed and produced by Mopes, except where noted
All cuts by Buddy Peace
Mixed and mastered by ALXNDRBRWN
Guitar on Grand Theft Auto Pilot and The Gives, The Takes played by Alan Hague
Trumpet on One That Got Away and Grand Theft Auto Pilot by Joshua Trinidad
Album cover art & layout by Lamadomus

Limited edition package deals including T-Shirts and 7-Inch Lathe Cut Records are exclusive to StrangeFamous.com, and include the full digital LP!