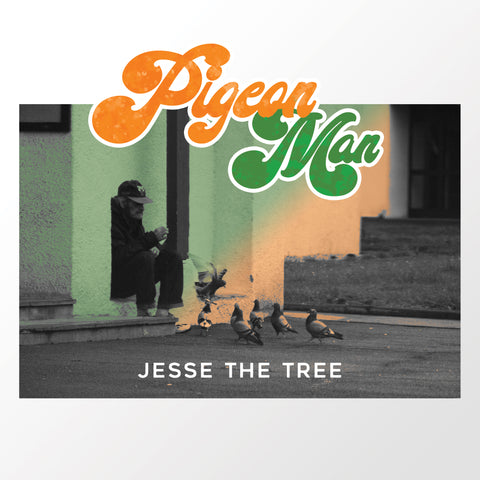 Jesse The Tree - Pigeon Man MP3 Download
SFR is proud to officially welcome JESSE THE TREE to the Strange Famous family! 

"PIGEON MAN," the Rhode Island emcee's first release on the label, is produced by MOPES (formerly known as Prolyphic), and features appearances by label boss SAGE FRANCIS, label mates EARLY ADOPTED and RUNT of JIVIN SCIENTISTS, and a host of collaborators including PremRock, Myles Bullen, Roz Raskin, Dirty Durdie, and Alan Hague (Passionplay, Prayers For Atheists). 
"Pigeon Man" is streaming everywhere you listen to music on August 19, 2022 via Strange Famous Digital, and at the SFR Bandcamp here.
Exclusive package deals, including a T-Shirt/MP3 Download combo and limited edition 7-Inch Records and Cassettes are available to pre-order here. 
----------
Orders for this product page will receive:
1x Jesse The Tree x Mopes "Pigeon Man" 320kbps MP3 Download
- includes the full 14-song LP!
- link to download a .zip file of the mp3s will be delivered to your inbox after completion of checkout
- MP3s must be downloaded on a computer, not a mobile device

----------
TRACKLIST

Shakedown Street

Live From The Garden f/ Mopes

NSFR

Sun Dance f/ Dirty Durdie

Flying Beatrice 

Apples And Anchors f/ Prem Rock, Poor Kings

Danny Strange f/ Mopes

Blue Dream f/ Roz Raskin, Myles Bullen

Miss Tonin

Bigger, Badder Wolf f/ Sage Francis

Macadoo 

Three Peace f/ Early Adopted, Mopes

Silhouette f/ Runt, Alan Hague

Pigeon Man

 
All songs written and performed by Jesse the Tree, except where noted
All songs produced by Mopes
All cuts by Buddy Peace
Mixed and Mastered by DJ Zole
Piano on "Flying Beatrice" played by ALXNDRBRWN
Guitar on "Blue Dream" and "Silhouette" played by Alan Hague
Artwork & design by Storm Davis
Photography by Alejo
 "SHAKEDOWN STREET" is the first video from the album! 
Video shot by Pulp.Prints, edited by Mopes
After a decade of exploring the underground, touring territories most indie emcees never even glimpse, scattering his styles across singles and stages and Soundcloud streams, Jesse The Tree finally found a home right back where he started with the Ocean State's own Strange Famous Records. And now that he's home, it's time to start letting the world hear what he had to offer:
"I wanted this project to be a next step in music for me - a way to reach more people who might relate to my writing, and a motivator for me to keep working and get better at what I do," Jesse explains. "I've always considered music my preferred method for communicating my feelings and thoughts, and I hope that 'Pigeon Man' paints a picture of who I am for the listeners."
As for the creation of the record, Jesse explains what's in a name: "I chose it because 'Pigeon Man' is one of the aliases I've used while creating music in the past, and over time a running theme of birds and flying started to emerge within my writing." His influences range from a more traditionally organic and melodic corner of the music world to sounds closer to his own output: "At the time I was writing it, I was listening to a lot of Neil Young, Bill Callahan, Johnny Cash, Jeff Buckley… and then a lot of 1990s hip hop and contemporary underground stuff from my peers."
Although Jesse is himself an experienced beatsmith, he was more than happy to embrace the opportunity to work with veteran producer Mopes (who has been the backbone of the recent slate of SFR releases, including a pair of solo releases and the debut EP from BlackLiq). Mopes described the immediate chemistry that the pair experienced: "I met and became instant friends with Jesse while making the beats for this project. We shared a lot of common interests and influences, both musically and otherwise. He's super talented, funny, and has become one of my favorite people."
Jesse found himself on the radar of SFR overlord Sage Francis in 2016, but not because Sage caught his set at a local New England venue or heard his name around his hometown. No, Sage had to head across the globe to witness Jesse, catching him at a festival in Germany while in town to see another act on the bill. The two kept in touch, and plans to add The Tree to the team solidified in 2020, with Jesse making his initial introduction to SFR listeners on Mopes' self-titled EP ("Party McFly") and ALXNDRBRWN's epic "Glow Kid" album. Sage makes an appearance on the 'Pigeon Man' track "Bigger, Badder Wolf," the originator of the Strange Famous sound ushering in a new era with the label's latest find.
"I've known about SFR since I was in middle school through my older sisters. They burned me underground hip hop mix CDs and they introduced me to Sage's albums. They would go to shows and bring me back merch, and I remember being so excited to finally be old enough to go with them. And now I'm signed to the label they introduced me to." 
At the beginning of his next chapter, Jesse sums up the road that led him here: "I'm really grateful for the whole ride, especially thinking back to when I was a kid daydreaming about making music and being inspired by Strange Famous." 
"Pigeon Man" is streaming everywhere you listen to music on August 19, 2022 via Strange Famous Digital, and at the SFR Bandcamp here.

Exclusive package deals, including a T-Shirt/MP3 Download combo and limited edition 7-Inch Records and Cassettes are available to pre-order here. 
----------------------


SOME INFORMATION ABOUT LATHE CUT RECORDS FROM THE MANUFACTURER:
How do these sound?
Lathe cuts will always have some degree of surface noise/pops/crackles, which tends to largely disappear once the music starts, especially for full, loud recordings. Lathe cuts are not audiophile records, or even comparable to standard pressed records. They will sound slightly different than the master, because the plastic reacts to certain frequencies differently. They are made from materials that were never intended to be records. Sound quality varies slightly from one record to the next, and some audio tracks translate better than others. There are many factors that determine the sound of the record; the material, the number of records that have been cut by the stylus, the climate, etc… But we drop-test them all and throw away any that are not up to standard. They are all totally listenable, but intended to be used more as playable art pieces. These lathes are not meant to be the way your track is regularly listened to. 
Are these as loud as a normal record?
Unfortunately, No. Our cutter heads are 70 years old and utilize a magnet that has, over the years, degraded a little. They were also made before the loudness war and were never intended to produce the kind of volume that modern stereo cutting heads made in the 70s and 80s were geared for. On top of that, the plastic that is used is harder than a lacquer that is used to master a pressed record, and the heads has to work much harder, resulting in less volume (about 75% that of a modern record). So, you will have to crank up your amplifier a few notches past where it usually sits.
Will these play on any turntable?
These records do not always play well on all turntables, especially cheap turntables without a weighted tonearm. However, they have all been play tested to make sure that they track on a properly weighted record player. Lighter tonearm weight and neutral anti-skating works best. Sometimes the needle will get caught in between the grooves and sound awful. You can usually gently nudge the needle sideways into the bottom of the groove, which should fix the problem. 
Inexpensive players with red cartridges/needles in particulars tend to have more problems than professional cartridges.
Will these records degrade or hurt my needle?
Absolutely not. These records are made out of hard polycarbonate plastic and will last as long as a pressed record. And your needle will not know the difference between this plastic or the PVC that pressed records are made of. The old adage that Lathe Cuts ruin your needle is a product of lacquer "dub plates" or "acetates". Lacquers are extremely soft, and with repeated plays, the lacquer would wear off and build up on your playback needle. We DO NOT use lacquers and DO NOT have this problem. We listen to lathe cuts 12 hours a day in the studio, and rarely change out our playback styli.